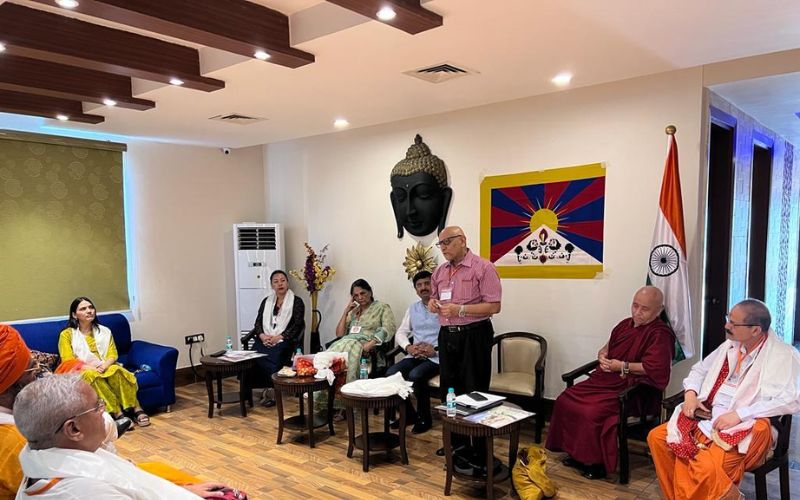 Indo-Tibetan Association coordinates Two-day National Contemplation meeting at Uttar Pradesh
Greater Noida: According to Tibet.net, the program was inaugurated by a former Supreme Court judge and the chairman of Indo-Tibetan Association, Justice Gyan Sudha Mishra. The program began with introducing all the Indo-Tibetan Association members from different parts of India, who were presented with a Tibetan traditional white scarf(khatak) and a book & booklet on Indo-Tibetan Relations.
The program was presided by Smti Gyan Sudha Mishra-the chairman and attended by retired Major General Nilendra Kumar-Indian Army, Former IG Anand Vardhan Shukla IPS, former Deputy Speaker of CTA-Acharya Yeshi Phuntsok, Dr Ashutosh Bhatnagar –Director of J&K study centre, New Delhi and Tashi Dekyi, ITCO-Delhi.
Justice Gyan Sudha Mishra described the liberation of Kailash Mansarovar as the ultimate goal. Tibet and Kailash Mansarovar have had mythological and spiritual links with India since immemorial. Thus, people have to join the liberation campaign of Tibet and Kailash Mansarovar.
Major General Neelendra Kumar described the independence of Tibet as necessary for the security of Indian borders. He said it is essential strategically that Tibet becomes independent at the earliest.
National Vice President of Indo-Tibetan Association and former IG Anand Vardhan Shukla IPS said that today most human rights violations in the world are happening in Tibet. How can any civilised society ignore this? Significantly few people realise how difficult it is to live by sacrificing one's self-respect and pride.
Acharya Yeshi Phunshuk, a former deputy speaker of the Tibetan Parliament, said Tibet's original culture is based on India's original culture.
Tashi from Indo-Tibet Coordination Center, New Delhi, called for joining the Tibet Liberation Sadhana and expressed her gratitude for the work being done by the organisations on this behalf.
Eminent thinker of the country and Director of Jammu and Kashmir Studies Center New Delhi, Dr Ashutosh Bhatnagar said China's border has never been shared with India. This barrier has also been created by nature. Since ancient times, the natural boundary of India has been considered to be from the Hindukush Mountains. The Himalayas and Tibet separate India and China from each other. The actual size of China is only one-third of the current size, the rest is an illegal occupation. If we look at ancient history, we will know that it is mentioned in various treaties that for the development of Kailash Mansarovar area, revenue collection and tax collection were spent by India on the development of Kailash Mansarovar area.
Read the complete news here.
By Team TRC