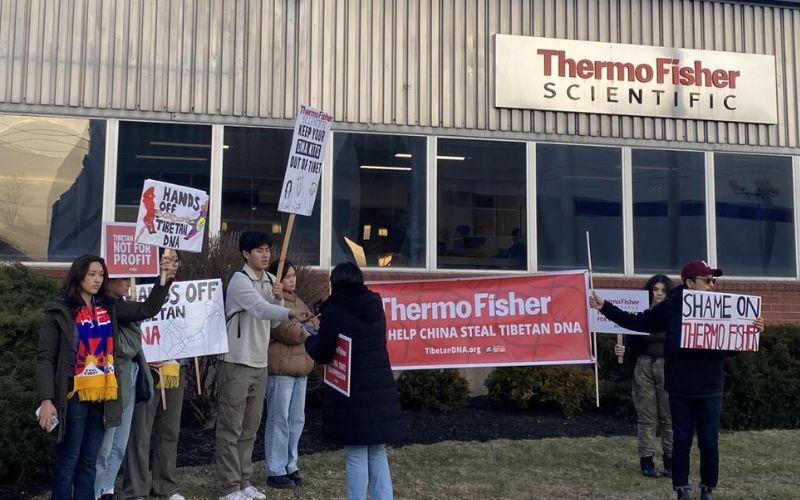 SFT calls on Thermo Fisher to end complicity in CCP's DNA collection in Tibet
As part of its Global Week of Action, Students for a Free Tibet has called on Thermo Fisher, a global company that is making huge profits by allowing its DNA kits to be supplied to police forces in occupied Tibet, to stop its complicity in the crime.
SFT youth activists took to the streets to educate Thermo Fisher employees about the company's complicity in mass DNA collection by the Chinese government inside Tibet. The activists continued their protest calling on the Company by taking to the streets with banners reading Hands off Tibetans' DNA and Tibet flags. Tibetan students from Bay Area also participated in the campaign.
The group also implored people to participate in the campaign by sending a message directly to Marc Casper, CEO, Thermo Fisher, and Sandy Pound, Vice President and Chief Communications Officer urging them to halt the supply chain of Thermo Fisher DNA Kits to China immediately.
On 5 September 2022, Human Rights Watch released a report titled China: New Evidence of Mass DNA Collection in Tibet. The report states that children as young as five years old in Tibet are included in the DNA collection drive that fundamentally violates basic norms of free and informed consent.
According to another report published in the same month by The Citizen Lab of the University of Toronto, Chinese authorities may have collected roughly between 919,282 and 1,206,962 DNA samples in areas of Tibet referred to by the Chinese government as the Tibet Autonomous Region since 2016. The report found that Chinese officers visited fields, monasteries, residential neighborhoods, businesses, and even schools to collect "pin-prick blood samples" from Tibetans.
The Chinese government is building the world's largest police-run DNA database with the help of key industry partners in the West. One such partner is Massachusetts-based company Thermo Fisher Scientific. Thermo Fisher is a key supplier of DNA profiling technology in Tibet. This is not the company's first involvement in the Chinese government's dystopian programs of mass surveillance and repression. Thermo Fisher has been criticized in the past for selling DNA equipment to the police in East Turkistan (Ch: Xinjiang).
The Chinese authorities have sought to justify the DNA collection drive as a means of solving crimes (such as bank robbery or kidnapping) but in reality, this is a textbook case of an authoritarian, colonizing regime finding new ways of repressing people in the name of "stability maintenance and social control." It is imperative that we stand against the Chinese government's aggressive DNA collection drive and Thermo Fisher's involvement in the program, stated SFT.
Edited and collated by Team TRC