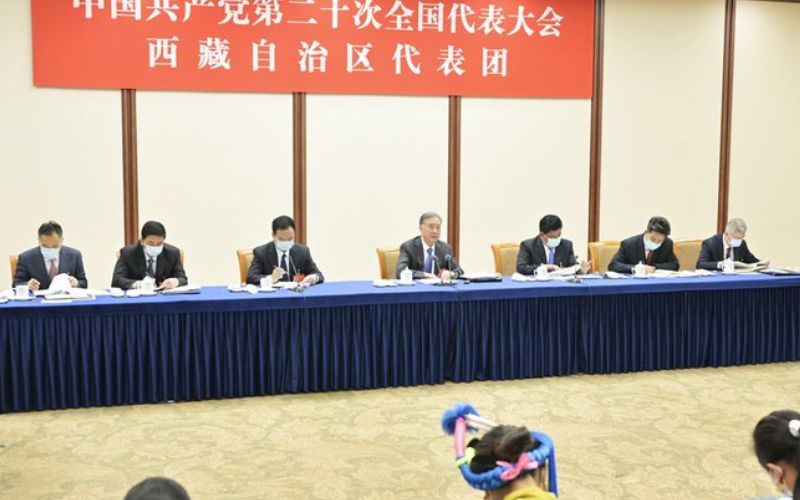 20th CPC: Wang Yang calls for efforts to build a 'new, modern, socialist' Tibet
Beijing: Wang Yang, one of the seven Politburo standing committee members of the Chinese Communist Party and chairperson of the Chinese People's Political Consultative Conference held a group discussion with 20th CPC delegates from occupied Tibet.
He reportedly called on the delegates to "adhere to the spirit of the 20th National Congress of the Communist Party of China to oversee the overall situation of long-term stability and high-quality development in Tibet".
The report to the 20th National Congress of the Communist Party of China (CPC), delivered Sunday by Xi Jinping, general secretary of the CPC Central Committee, "serves as a political declaration and program of action to open a new chapter of building a modern socialist country in all respects", Wang said. The report is "certain to greatly pool together all sons and daughters of the Chinese nation to strive in unity for the great rejuvenation of the Chinese nation on all fronts", he added.
Wangyang stressed that the 10 years of the new era were the best developed, the most varied and the most beneficial to the masses in Tibet. It is to be hoped that the Tibet Autonomous Region will take a serious approach to the implementation of the 20 pillars of the Party, fully implement the strategy of the New Era Party, implement its central decision-making, take care of the four major issues of stability, development, ecology and strength, pursue long-term solutions and resolve the deep-seated contradictions and problems of lasting peace and security, and strive to build a new modern Tibet of socialism that is united and harmonious with rich civilizations.
According to Xinhua, Wang also noted the significance of bearing in mind the CPC's central task on the new journey of the new era and making solid efforts in economic and social development, in a bid to advance the rejuvenation of the Chinese nation on all fronts through a Chinese path to modernization. During the discussion, Wang said Tibet enjoyed "the best development, witnessed the biggest changes, and delivered the most benefits to the people in the past decade", and called for more efforts to build "a new, modern, socialist Tibet that is united, prosperous, culturally advanced, harmonious, and beautiful".
International Campaign for Tibet has noted that the Tibetan delegates to the 20th Congress account for about a mere 1.65% of the total 2,296 delegates, although Tibetan territory accounts for more than a quarter of China's current landmass.
The Tibetan delegation of the 20th National Congress of the Communist Party of China also reportedly visited an exhibition of the achievements on the theme " Endeavoring a New Era". Radio Free Asia had reported that Chinese authorities have ordered Tibetan residents in Lhasa to watch the televised coverage of the ongoing 20th Party Congress meeting of the Chinese Communist Party by forbidding them to leave their houses until the end of the sessions.
Edited and Collated by Team TRC