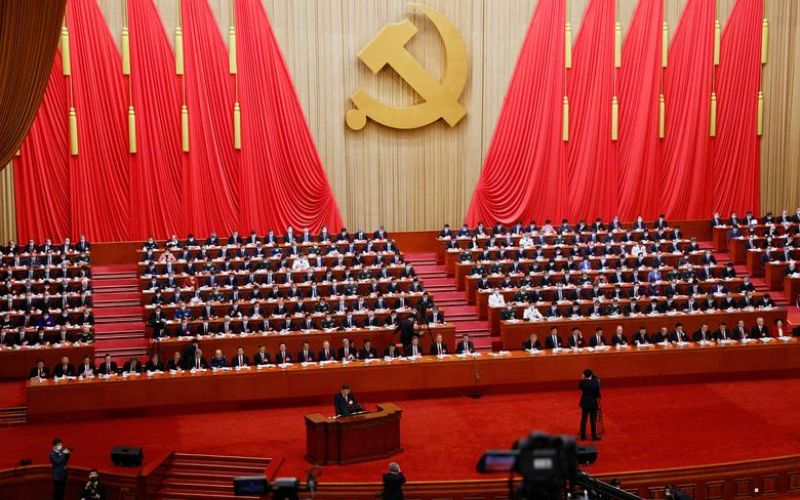 20th CPC: Xi Jinping skips Tibet, Xinjiang in his speech
Source: Reuters
China's 20th Communist Party Congress began on Sunday, with Xi Jinping poised to clinch his third five-year stint in charge. Xi opened the week-long, twice-a-decade session with a speech touting China's fight against Covid-19, the party's safeguarding of national security, maintaining social stability, protecting people's lives and taking control of the situation in Hong Kong, which was rocked by anti-government protests in 2019. He also called for accelerating the building of a world-class military.
However, there was no mention of Tibet or Xinjiang, where grave human rights violations are happening under CCP's misrule. Since 1959, Tibet is under illegal occupation of China. Tibetans inside Tibet have been forced to endure hell on earth since the occupation of Tibet by Chinese forces.
Recently, UNHRC report said it found "serious human rights violations" in the Chinese government's "counter-terrorism" strategies targeting Uyghurs and other Muslims in Xinjiang. The report also raises concerns about "torture or ill-treatment" at detention camps which China refers to as "Vocational Education and Training Centres".
In the work report from which his speech was drawn, Xi used the terms "security" or "safety" 89 times, up from 55 times in 2017, according to a Reuters count, while his use of the word "reform" declined to 48 from 68 mentions five years ago.
The tone and vocabulary of Xi's speech have already reflected in ideological campaigns in the last couple of years. The speech, however, did not divert from the ideological and policy positions that the party under him has taken up in the last couple of years.
On the military, Xi emphasized more intense military training. He said China "will innovate new military strategic guidance and develop strategies and tactics for people's war".
Xi mentioned security aspects 73 times during his speech, according to a report by the Economic Times (ET). There was a separate section for "internal security". According to experts, this indicates more thrust on security in the country.
Xi Jinping currently holds the three most important titles in the Chinese system. He is the president of the People's Republic of China. He is also the general secretary of the Chinese Communist Party, which makes him the party boss, a position he took over in 2012.
In addition, he is the chairman of the Chinese Military Commission (CMC), a position he took over in 2013. The CMC is the defence arm of the CCP. In the Chinese system, the army (People's Liberation Army) serves the party, not the state. Holding these positions together makes him the paramount leader of the CCP.
His predecessors, Hu Jintao and Jiang Zemin, served for two five-year terms, respectively. The current CPC is expected to cement Xi's control over the Chinese economy, military, and internal and foreign affairs.
Edited & Collated by Team TRC