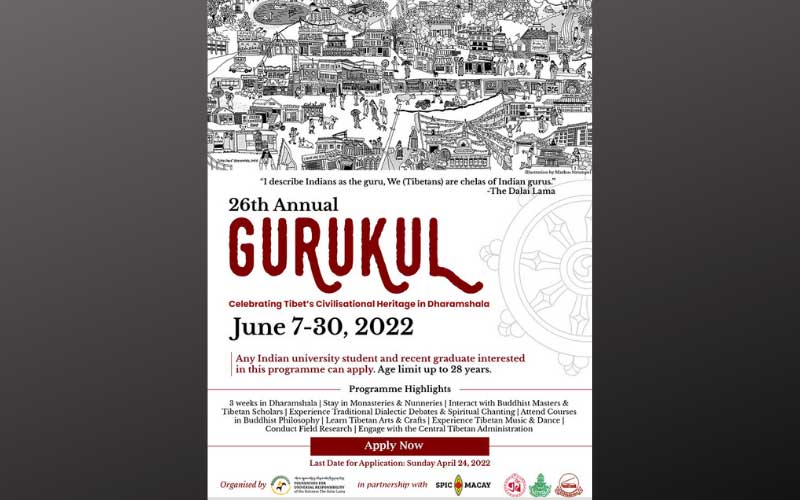 26th Annual Gurukul Programme for University students at Dharamsala
Dharamsala: Registration for 26th Annual Gurukul for Indian university students and recent graduates that seeks to celebrate Tibet's civilizational heritage in Dharamsala is open now. The program is organized by Foundation for Universal Responsibility of His Holiness the Dalai Lama, New Delhi.
The Gurukul Programme will begin with a tour of Dharamsala where participants will interact with the vibrant network of partner organizations and centres in the Tibetan community. These interactions will build an understanding of the rich history of work of Tibetan institutes in Dharamsala and foster a greater sense of engagement with the host community. Other highlights of the program include stay in monasteries and nunneries, interaction with Buddhist masters and scholars, experience traditional dialectic debates and attend courses in Buddhist philosophy. The participants will also get an opportunity to engage with Central Tibetan administration and conduct field research.
For several years, Gurukul has offered an opportunity for university students and recent graduates across India to reside in Dharamsala – the home of His Holiness the Dalai Lama and the Headquarter of the Central Tibetan Administration – for an immersive experience of Tibet's civilizational heritage, the teachings of His Holiness The Dalai Lama, Tibetan Buddhism, and the life and history of the Tibetan community in exile.
The last date for sending in an application is 24th April 2022.
More details here.
(Information supplied by Foundation for Universal Responsibilty)
By Team TRC