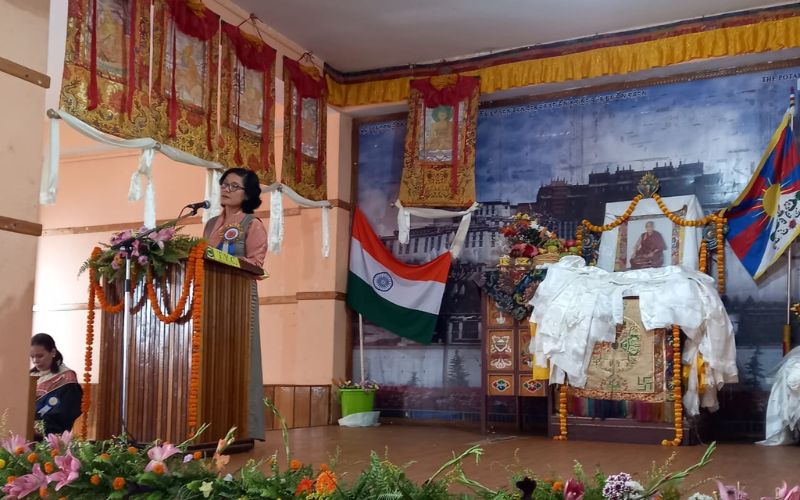 64th Anniversary of Dokham Chushi Gangdruk commemorated
Gangtok: Parliamentarian Youdon Aukatsang of the Tibetan Parliament in Exile attended the commemoration of the 64th founding anniversary of Dokham Chushi Gangdrug held at Gangtok, Sikkim, and read the official statement of the Tibetan Parliament-in-Exile on June 16. 2022.
Dokham Chushi Gangdruk, the organisation of the first Tibetan organised voluntary resistance force to fight against Communist China's occupation of Tibet further stated in their press release that China should respect and uphold its constitution and stop the arbitrary detention of Tibetan Lamas and Tulkus as well as writers, intellectuals, teachers and common Tibetans inside Tibet.
A prayer session and a brief ceremony at Lhagyal Ri, located almost halfway on the circumambulation path around the Tibetan spiritual leader His Holiness the Dalai Lama's residence marked Chusi Gangdrug's 64th founding anniversary.
A delegation of Tibetan lawmakers attended the event on behalf of the Tibetan Parliament-in-Exile. Parliamentarian Lhagyari Namgyal Dolkar attended the event as the Chief Guest along with Parliamentarian Serta Tsultrim, Tenpa Yarphel, Phurpa Dorjee Gyaldhong, Lopon Thupten Gyaltsen, and Konchok Yangphel.
Chushi Gangdruk was formally established on June 10 1958, Andruk Gonpo Tashi was the founder of the organisation. Chushi Gangdruk translates to the "Four Rivers, Six Ranges" in Tibetan.
More details here.
By Team TRC