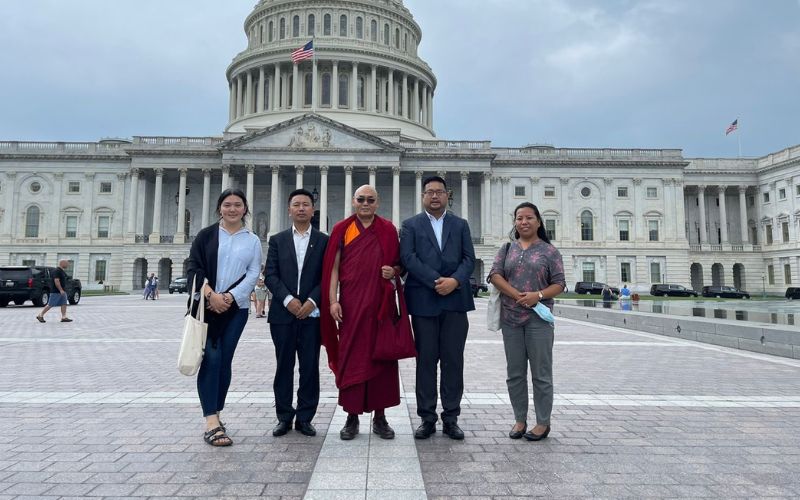 8th World Parliamentarians Convention on Tibet: Speaker Khenpo Sonam Tenphel arrives in Washington DC
Washington DC: Representative Namgyal Choedup, Secretary Tashi Dhondup and Capital Area Tibetan Association (CATA) Vice President Tenzin Jigmey received Tibetan Parliament-in-Exile Speaker Khenpo Sonam Tenphel today, 13 June 2022, at Dulles International Airport, Washington DC. The Speaker was accompanied by Parliament Secretariat Additional Secretary Tenzin Choedon and Personal Assistant to Speaker Tenzin Seldon.
This is the Speaker's first official visit to the United States after taking charge as the Speaker of the 17th Tibetan Parliament-in-Exile. The Speaker's visit includes a series of important meetings and visits. The Office of Tibet will coordinate public talks for Speaker and Deputy Speaker with the Capital Area Tibetan Association on 24 June 2022 and New York and New Jersey Tibetan Association on 25 June 2022.
"Hon'ble @TPiESpeaker has reached Washington DC for the 8TH World Parliamentarians Convention on #Tibet. Rest of my colleagues will gradually reach the Capital before the convention convenes", tweeted Namdol Lhagyari, a member of Tibetan Parliament-in-Exile.
The 7th World Parliamentarians' Convention on Tibet (WPCT) was held in Riga, Latvia in 2019. The Convention was hosted by the Latvian Parliamentary Support Group for Tibet and supported by the Tibetan Parliament-in-Exile (TPiE), in close association with the International Network of Parliamentarians on Tibet (INPaT). The Convention had strong participation of parliamentarians from all over the world, including members of the Tibetan Parliament-in-Exile.
By Team TRC