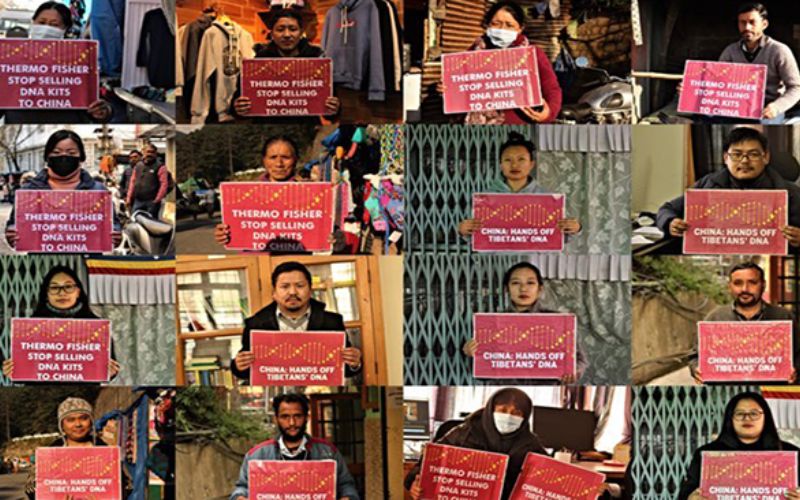 A coalition of 120 Tibetan organisations protested China's illegal collection of Tibetan DNA
Source: The Tibet Post
As part of a signature campaign organised by 120 Tibetan organisations demanding that Thermo Fisher stop selling DNA kits to China that steal Tibetan DNA. For the past few weeks, the National Democratic Party of Tibet (NDPT) has been organising a signature campaign on Mcleod Ganj in Dharamshala, obtaining approximately 600 signatures from Tibetans, Indians, and other supporters of justice.
"Over the last few weeks, we have collected 595 signatures calling on Thermo Fisher to stop selling DNA kits to China, which is assisting China in collecting Tibetan DNA without the consent of individuals and collecting DNA from young children as young as five years old, we must stop this," said Tashi Dhondup, President of NDPT.
"Thermo Fisher products are supplied to Chinese police in occupied Tibet, allowing China to build up a massive DNA database in order to continue violating Tibetans' freedom and increasing surveillance," the NDPT stated in a statement.
"We are alarmed that Thermo Fisher Scientific is supplying Chinese police forces in occupied Tibet with DNA testing kits and other support," the global coalition of Tibetan groups wrote in a letter to Thermo Fisher Scientific CEO Marc Casper. We implore you to publicly declare the end of these agreements, which pose a new and dangerous threat to Tibetans living under occupation."
"Occupied Tibet is already one of the world's most repressive and closely monitored places. "One of the most concerning recent developments has been the Chinese authorities' policy of mass DNA collection, in which police have collected DNA samples from as many as 1.2 million Tibetans, including children as young as five," the letter continued.
"There can be no justification for this policy; it is wildly disproportionate in scale, discriminates against Tibetans, and empowers the Chinese government and police to commit even more human rights violations against Tibetans," the letter continued.
"So long as these sales continue, Thermo Fisher Scientific is choosing to assist in the monitoring and persecution of millions of Tibetans. As a result, we urge you to have the courage to correct this grave error, listen to Tibetans, and terminate these agreements," the joint letter concluded.
A global coalition of Tibetan advocacy groups has requested information from Thermo Fisher on the supply of products to Chinese authorities. Thermo Fisher has yet to respond despite receiving a response: • Provide sufficient information about the supply of goods to Chinese police forces in Tibet; • Confirm that their goods will not be supplied for use in Tibet; and • Schedule a meeting with affected Tibetan community leaders.
The goal of the signature campaign, according to the organisation, is to "put direct pressure on Thermo Fisher to stop supplying DNA kits to Chinese police forces or Chinese authorities for use in Tibet."
"To raise awareness, Tibet is already regarded as the least free country in the world. The provision of DNA kits by Thermo Fisher feeds into this repressive system, assisting China in denying freedom in Tibet or supporting China's occupation of Tibet "The organisation went on to say.
Edited & Collated by Team TRC