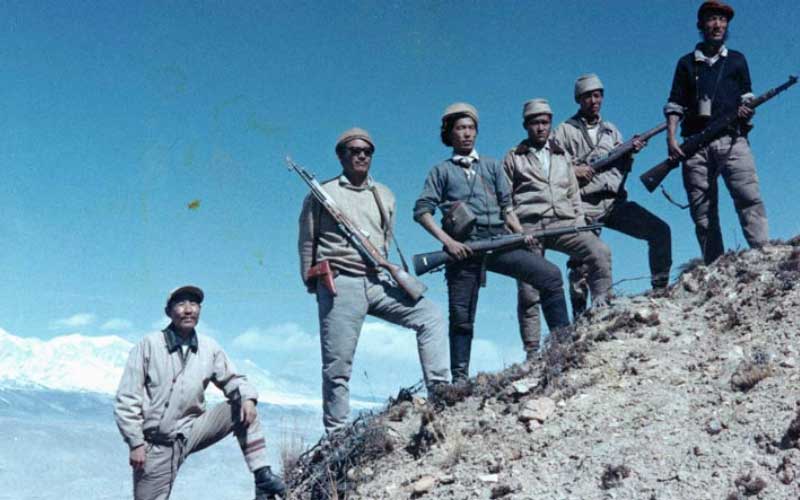 A resistance fighter's personal documentation brings a quiet era in Tibet's independence history to life
Camp Hale, once a US army training facility in the Colorado mountains, also served as a top-secret spot for Tibet operations, code-named STCIRCUS where the CIA trained around 250 Tibetans in spy craft and guerilla warfare in the 1950s and 60s. Recent refugees from Tibet, the trainees would eventually be parachuted back to Nepal and Tibet as resistance fighters.
In an exhibition titled 'Shadow Circus', as part of a parallel event of the recently-concluded India Art Fair, several unseen records, documents and images were showcased from a turbulent chapter in the Tibetan independence movement, including artworks from Camp Hale.
The Tibetan trainees at Camp Hale were addressed with names like Pete, Rocky, Lou and Larry. Apart from radio operations, guerrilla warfare and intelligence gathering, the trainees were also given lessons in photography, parachuting, geography, mathematics, political science and art. The refugees fell in love with the place and shared a bonhomie with their CIA trainers.
After the Communist Chinese invasion of 1949 and its subsequent takeover in 1959, Tibet has been a country under occupation. But little is still known of the guerrilla war that was fought from the mid-1950s to 1974, right in the middle of the Cold War when thousands of Tibetans took up arms against the invading forces of China.
The CIA involvement in the two-decade long anti-Chinese covert operations to train and parachute Tibetan resistance fighters is given a more nuanced reading in 'Shadow Circus' as it brings to the fore the personal archives and artefacts of Lhamo Tsering, a member of Chushi Gangdruk, the Khampa Tibetan guerrilla group and a key intermediary between the CIA and members of the resistance. Serving as chief of operations, Tsering oversaw the activities of the resistance and at the same time, maintained an incredibly detailed archive of photographs, documents, letters and maps.
More details here.
(Information supplied by The Week)
By Team TRC