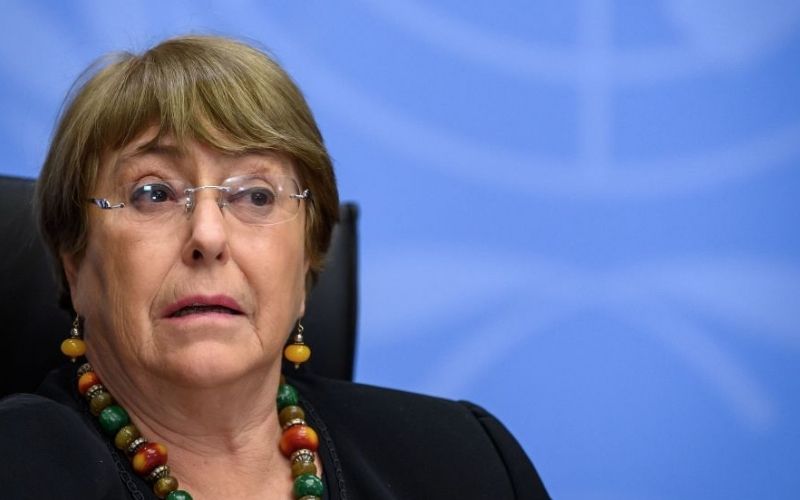 Ahead of China's visit, the UN High Commissioner warned of a "propaganda minefield."
Dharamshala: In a joint statement sent last week, over 200 activists and human rights organisations urged UN High Commissioner for Human Rights Michelle Bachelet to postpone her official travel to China or "risk stumbling into a propaganda minefield put out by the CCP." "Despite being ranked as the least free place in the world for the second year in a row, the current High Commissioner has failed to raise any concern about the situation in occupied Tibet, which has not been mentioned as a visit location," it said, adding that the commissioner's selective visit to China would be further hampered by what Chain wants her to see.
The letter also criticised the current UNHRC director for ignoring all requests to meet with Tibetan political prisoners, Uyghur camp survivors, and Chinese democracy campaigners before of her journey to China. The rights groups cautioned that the High Commissioner could be susceptible to Beijing's propaganda efforts to whitewash the many struggles and movements. According to reports earlier this year, the UN representative's visit was approved only after the Winter Olympics on the condition that the trip be "friendly" and not portrayed as a probe.
According to the reports, "without a doubt, the UN must examine human rights violations against Uyghurs, Tibetans, Hong Kong residents, and Chinese human rights supporters. This includes UN High Commissioner for Human Rights investigations, but such trips must be avoided at all costs if there is a significant risk that the government in question will prevent free and independent access in the country and exploit the trip for propaganda purposes, according to ICT Germany Executive Director Kai Mueller.
Although Bachelet is due to visit China later this month, the lack of openness in the commissioner's travel arrangements is another source of concern. Tibetan rights groups have expressed concern that she will not visit Tibet, despite the fact that the territory was named the least free place in the world in the Freedom House 2022 report, which tied South Sudan and Syria. "In the long run, the visit may give China's leaders more confidence in their efforts to absorb all non-Han cultures and identities." ICT warned last month that China could exploit the High Commissioner's visit to deny future requests for access for at least another decade or two.
(Information Supplied by Phayul)
By Team TRC