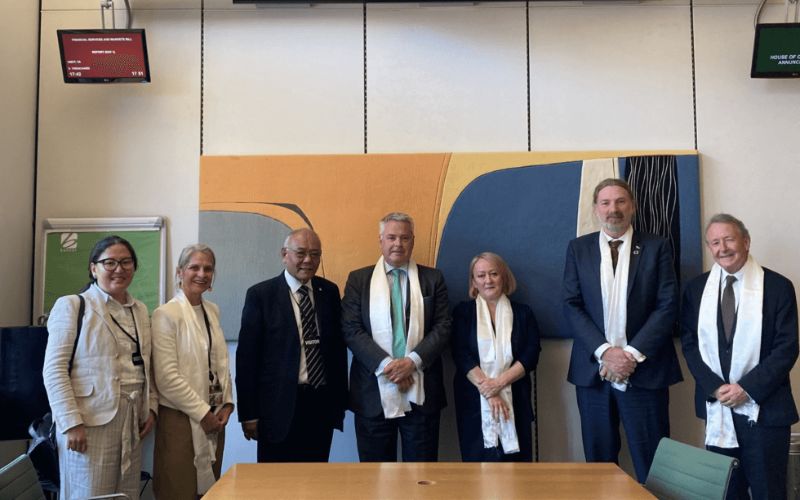 APPG Tibet AGM held in UK Parliament: Concerns raised on Human Rights violations in Tibet
In a recent parliamentary session, concerns were raised about the ongoing human rights violations in Tibet, including restrictions on freedom of religion, freedom of assembly and association, and reports of forced labor.
Lord ALTON of Liverpool, in his written parliamentary question (HL8039), sought to assess the British government's evaluation of the UN Special Rapporteurs' statement and its recommendations. Additionally, he inquired about how the government intends to address China's compliance with international obligations against forced labor and trafficking, as well as the provision of remedies and compensation for victims.
Lord Ahmad of Wimbledon, representing the Foreign, Commonwealth and Development Office, provided a response to the inquiries during the All Party Parliamentary Group (APPG) Tibet Annual General Meeting held in UK Parliament under the chairmanship of Tim Loughton NP.
The parliamentary questions, tabled on May 23 and May 24, were primarily based on a statement made by UN Special Rapporteurs on April 27. The statement suggested that vocational training programs in the Tibet Autonomous Region of China posed a threat to Tibetan identity and carried a risk of forced labor.
The statement also called upon the Chinese government to explain the steps it intends to take to comply with its international obligations in preventing forced labor and trafficking. It further emphasized the need to ensure access to compensation for victims affected by these practices.
In response, Lord Ahmad acknowledged that the UK government is well aware of the human rights violations taking place in Tibet. He highlighted the restrictions on religious freedom, freedom of assembly and association, and the reports of forced labor. The government has been actively engaged in drawing international attention to the situation in Tibet, including discussions held during the G7 Leaders' Communique on May 20, 2023. Furthermore, in March 2023, the UK made a statement at the United Nations Human Rights Council (HRC) under Item 4, addressing the human rights situation in Tibet.
Lord Ahmad also mentioned the UK-led lobbying effort that successfully garnered support from 46 other countries for a joint statement at the UN HRC in June 2022. This statement specifically emphasized the dire situation in Tibet and called on China to respect fundamental rights across the People's Republic of China, including Tibet, in accordance with its own constitution and international frameworks.
The answer provided by Lord Ahmad came on June 7, 2023, at 17:16, shedding light on the British government's ongoing efforts to address the human rights violations in Tibet and urging China to uphold its obligations regarding fundamental rights and international frameworks.
The concerns raised in Parliament highlight the importance of international attention and collaboration in addressing human rights violations and ensuring the protection of individuals' rights and well-being.
Edited and collated by Team TRC