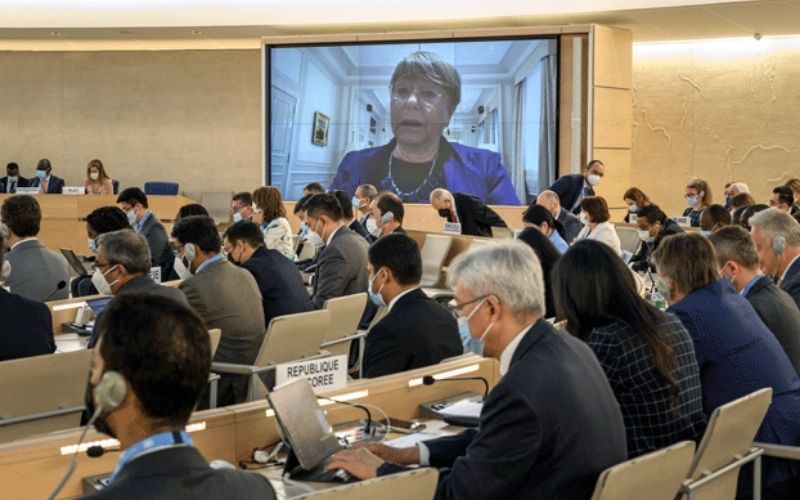 As a list of detention camps emerges, rights groups press the UN ahead of a trip to Xinjiang.
On Friday, around 20 Uyghur, Tibetan, and international human rights organisations protested outside the United Nations compound in Geneva, urging the UN human rights chief to release her report on Xinjiang abuses and consult internment camp survivors and other Chinese exiles ahead of her planned visit to China's western region.
The latest in a series of marches by Uyghurs, Tibetans, and other victims of Chinese repression came a day after a purported police list containing the names of more than 10,000 supposedly imprisoned Uyghurs from one Xinjiang county was released on Thursday.
Bachelet, a former Chilean president, is set to visit China this month, including the Xinjiang Uyghur Autonomous Region, though no dates have been announced.
Bachelet first stated in September 2018, shortly after taking over her present position, that her office desired unrestricted access to Xinjiang. However, the trip has been postponed due to concerns over her freedom of movement in the region.
"As the high commissioner and her team prepare for a visit to East Turkistan, three and a half years after 'unfettered access' was requested, Uyghurs, Tibetans, Hong Kongers, and other groups remain deeply concerned about the lack of transparency surrounding the terms of the visit, as well as the inexplicable delay in publishing the high commissioner's long-awaited report," the World Uyghur Congress, one of the groups that participated, said in a May 10 statement.
Uyghur groups attempted to deliver a letter to the Office of the High Commissioner on Human Rights (OHCHR) during the protest, stating their demands for a credible visit, according to WUC.
"We haven't come to the United Nations today to implore High Commissioner Michelle Bachelet," WUC president Dolkun Isa remarked. "We've come to hold her responsible." We've come to remind her of her important responsibility. She has an unavoidable responsibility to stop China's extermination of Uyghurs."
China is accused of imprisoning 1.8 million Uyghurs in concentration camps. China's maltreatment of Uyghurs and other Muslim minorities in Xinjiang has been declared genocide and crimes against humanity by the United States and numerous Western legislatures.
All such assertions, China vehemently denies, are politically motivated attacks on its security and development programmes in the vast western region. Beijing has requested a "friendly" visit by a United Nations human rights official, which rights activists worry will help China whitewash the situation.
According to Bloomberg, the US State Department said in a report to Congress that it will intensify pressure on China over its treatment of Uyghurs and other Turkic minorities in Xinjiang by raising concerns during meetings with other states, multilateral institutions, and the private sector.
(Information Supplied by RFA)
By Team TRC