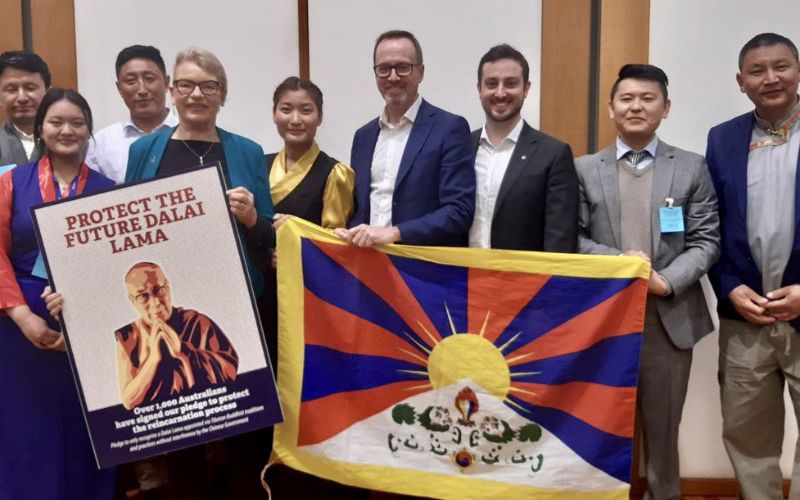 ATC's Tibet Lobby Day spreading awareness on Tibet cause among Senators
The 11th Tibet Lobby Day of the Australia Tibet Council has urged the Australian government to develop a plan to safeguard the 14th Dalai Lama's succession without involving the Chinese government.
The council urged lawmakers to pass a reciprocal access law that would allow major violators of Tibetan human rights to be punished under the Magnitsky Act and impose restrictions similar to those China currently imposes on travel to Tibet.
Nearly thirty members of parliament and senators from all political parties in Australia were greeted by a group of 15 young Tibetans. A pledge "to only recognize a Dalai Lama appointed via Tibetan Buddhist traditions and practices, without interference by the Chinese Government" has been signed by over 1000 Australians.
An annual event called Tibet lobby day is put on by the Australia Tibet Council and Tibetan community associations. At Tibet lobby day, Tibetans and supporters meet with Australian parliamentarians to discuss a variety of Tibet-related topics.
Senator Janet Rice of the Greens acknowledged the presence of Tibetan delegates during her keynote address at the Australian Senate (Upper House). These delegates included Tibetan Parliamentarian Tenzin Phuntsok Doring, Representative Karma Singey, with whom the Senator attended the 8th WPCT in June, and other dignitaries.
She emphasized the significance of the day, stating that it was crucial to meet Tibetan delegates with parliamentarians from all political parties to promote peace, freedom, and human rights in Tibet.
Concerns about the missing 11th Panchen Lama of Tibet and the Dalai Lama's succession were brought to Senator Rice's attention by the Tibetan delegation.
In her testimony, Senator Rice stated that Gendhun Choekyi Nyima would be thirty years old today. Tibetan Buddhism, Tibetan culture, and traditional practices are in jeopardy. Carrying or possessing a photograph of the Dalai Lama carries severe penalties, including imprisonment.
"We urge the Australian government to only recognize the Dalai Lama, who has been appointed by Tibetan Buddhist traditions and practices, and to oppose any attempt to interfere with the practices of Tibetan Buddhism. She continued, "I have lodged a motion to that effect on the Notice Paper today, and I will continue to raise this matter in this place through every means that are possible."
Australia Tibet Council's Tibetan delegations was thankful to meet with Australia's Senators like Zoe Daniel, Independent federal member for Goldstein, Steve Georganas , MP for Federal seat of Adelaide, Richard M Colbeck, Liberal Senator for Tasmania in the Australian Parliament, Russell Broadbent, Federal Member for Monash, Kylea Tink, Federal MP for North Sydney, and Louise Pratt.
Edited & Collated by Team TRC