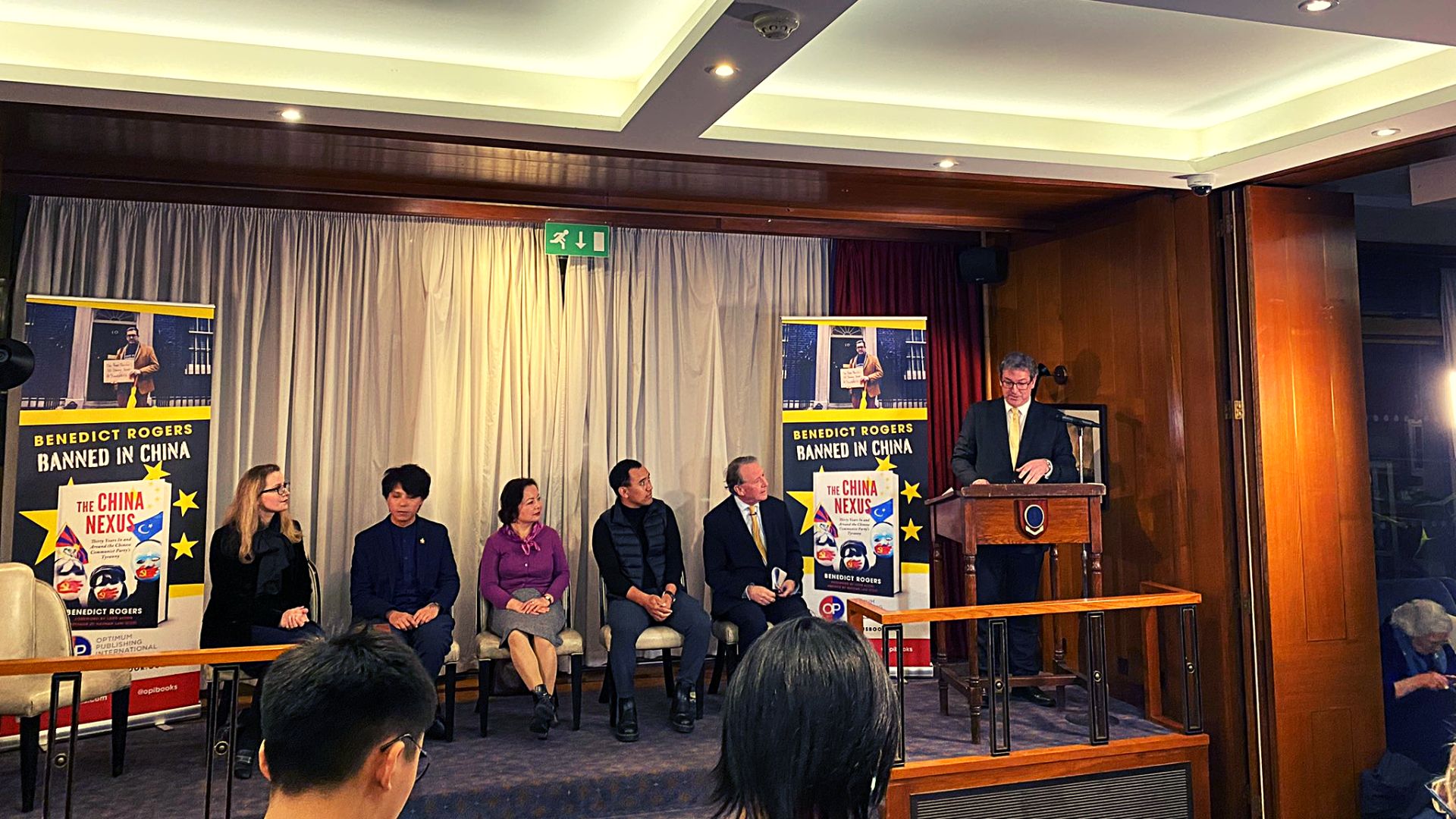 Benedict Rogers' new book 'The China Nexus' released in London
London: The China Nexus: Thirty Years in and around the Chinese Communist Party's Tyranny, a book by human rights activist and Co-Founder and Chief Executive of Hong Kong Watch Benedict Rogers was released here in a function attended by human rights activists including Lord David Alton, who also has written the foreword to the book, Ian Easton (Senior Director, Project 2049 Institute) and Mahmut Rahima (Uyghur Congress) yesterday.
The book, which is comprehensive analysis of the human rights crisis in China, from Hong Kong to the Uyghurs to Tibet, is published by Optimum Publishing International.
The book tells the story of Benedict Rogers' fight for freedom for the peoples of China and neighboring countries Myanmar (Burma) and North Korea and sets out how a global movement for human rights in China is emerging and what the free world should do next. The book describes the human rights crisis across China, including the persecution of Christians, the genocide of the Uyghurs, atrocities in Tibet, the crackdown in Hong Kong as well as the threats posed by Beijing to Taiwan and the free world.
"Tonight, we launched The China Nexus, I am incredibly grateful to David Alton for chairing the launch, Rahima Mahmut, Dr Ewelina U. Ochab, Darig Thokmay and Jim Wong for speaking on the panel, Dean Baxendale, Optimum Publishing International for organising & publishing, and Hong Kong Watch, Free Tibet and Stop Uyghur Genocide for supporting", tweeted Benedict Rogers.
"Happening now: Free Tibet is privileged to be co-hosting with Hong Kong Watch and Stop Uyghur Genocide the book launch event of Benedict Rogers new book The China Nexus. There's a Tibet chapter in the book. Can't recommend this book enough esp. at a time when CCP's importing their tactics here", tweeted Tenzin Kunga, Advocacy Officer at Free Tibet.
"This is non-fiction at its finest. I love the way Benedict Rogers blends together and chronicles his amazing journey, his deep research, and the personal stories of other courageous defenders of freedom. This is a brilliant and inspiring book. Highly recommended!", tweeted Ian Easton, Senior director at the Project 2049 Institute and author of The Final Struggle: Inside China's Global Strategy.
You can place the order of the book here.
Edited & Collated by Team TRC