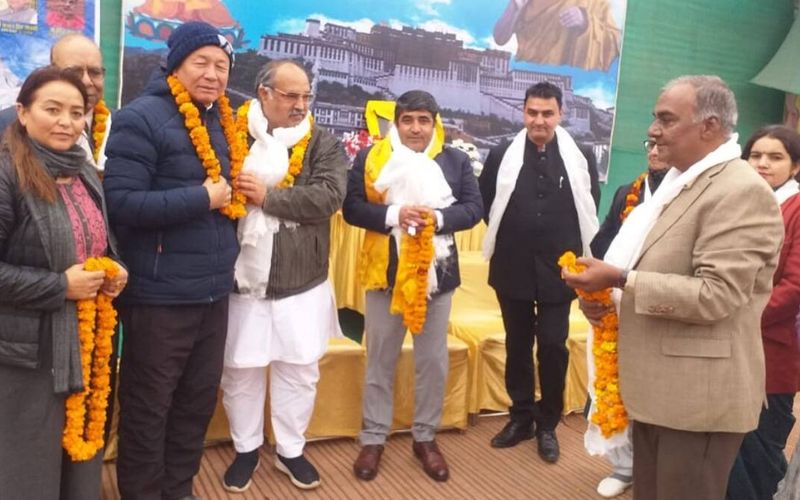 Bharat Tibet Samanvay Sangh celebrates its second anniversary with Tibetan shopkeepers
Source: Indian Express
The Bharat Tibet Samanvay Sangh (BTSS) celebrated its second foundation day on Saturday with Tibetan Market shopkeepers in Mani Majra. Anand Sharma, a member of the Haryana Public Service Commission, was the chief guest, and Jitender Jog, a member of the Haryana BJP state executive, presided over the event. Senior officials Dr Rukmesh Chauhan and Jagdeep Attri also spoke to the crowd. On this occasion, a BTSS Calendar 2023 was also released.
Narender Sharma, president of the BTSS's state unit, stated that the Sangh's main goal was to free the Kailash Mansarovar Mountain and Tibet from Chinese control. "Foundation of BTSS was a joint brain child of fourth RSS Sar-Sanghchalak late Prof Rajju Bhaiya and Tibetan religious head Dalai Lama," said Narender Sharma claiming "BTSS is nationalist and religious organisation and senior retired army officers, journalists, doctors, prominent educationists from all over India are members of the Sangh".
"We appeal to the people to spend some of their home budget on purchasing warm clothes from Tibetan markets and to completely boycott Chinese-made goods," Narender Sharma said.
Edited & Collated by Team TRC