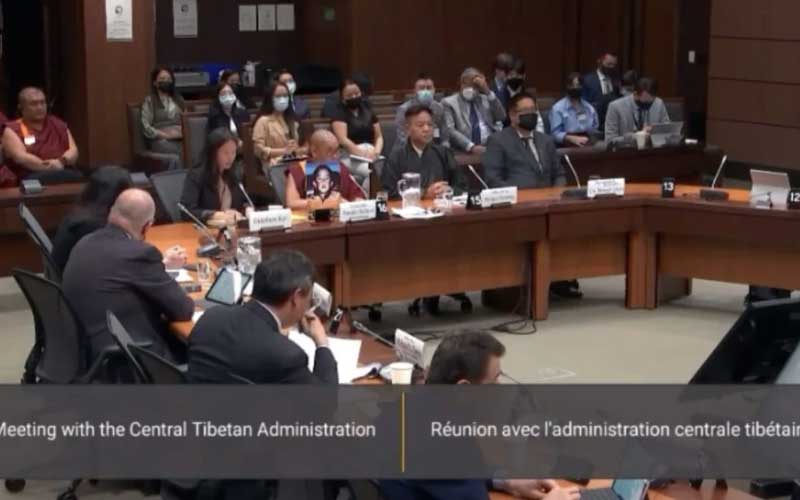 Canadian House of Commons adopts resolution supporting Sino-Tibetan dialogue
Canadian House of Commons adopts resolution supporting Sino-Tibetan dialogue
Ottawa: Sikyong Penpa Tsering appeared before the Canadian House of Commons Standing Committee on Foreign Affairs and International Development where he testified on the crisis of Tibet including the situation concerning Tibet's 11th Panchen Lama who is missing for the last 27 years.
Through his testimonial, Sikyong was able to garner the Canadian parliament's support to adopt a resolution supporting the peaceful resolution of Tibet. In his testimonial before the Canadian House of Commons on Thursday 5 May, Sikyong put forth a strong analysis of situation concerning Tibet including the westerners' need to study Tibet's history from sources other than the narrative of China and urged Canadian policymakers to come forward with more legislation and sanctions on China.
Highlighting the dire political and human rights situation inside Tibet under the Chinese government, Sikyong expressed concern over the repression of the Tibetan language and culture. In his answer to MP Garnett Genuis's question on the issue of language repression, Sikyong highlighted the degradation of Tibetan language under the Chinese rule from Mao Zedong's leadership to Xi Jinping's. He said Tibetan language under the current Xi government leaves little to no freedom.
In his testimonial regarding the case of Panchen Lama, Sikyong Penpa remarked the Chinese made a significant tactical error by not recognising Gedun Choeky Nyima as the Panchen Lama who was recognised by His Holiness the Dalai Lama. He said, "If China had done that, they would have Gedun Choekyi Nyima under control as of today as opposed to the boy selected by themselves and not recognised by the Tibetans".
He added that concealing the truth of the whereabouts and well-being of 11th Panchen Lama was China's way of meddling with the reincarnation of the Dalai Lama since it involves reciprocal recognition between Dalai Lama and Panchen Lama.
More Details here.
(Information supplied by Tibet.net)
By Team TRC