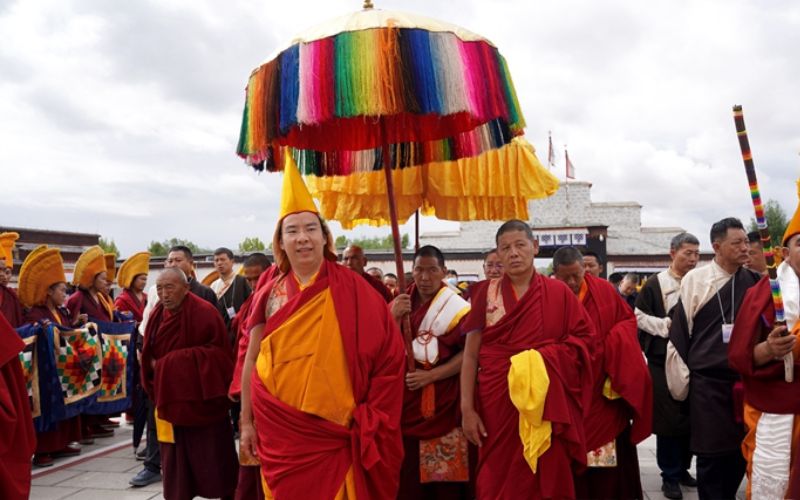 CCP, Gyaltsen Norbu on a mission to Sinicize Tibetan Buddhism
Lhasa: Xinhua news agency on Aug 8, indicated that the otherwise Beijing-resident Gyaltsen Norbu was busy performing his party-dictated duties to Sinicize Tibetan Buddhism, a signature campaign of China's current state president and party General Secretary Xi Jinping.
The report said the member of the Standing Committee of the National Committee of the Chinese People's Political Consultative Conference and vice president of the Buddhist Association of China had chaired several meetings, including a meeting on sharing experience of Tibetan Buddhist lecturing and a seminar on the interpretation of Tibetan Buddhist doctrines.
He held discussions with eminent monks of Bon (the pre-Buddhist, indigenous religion of Tibet) and various sects of Tibetan Buddhism, including Nyingma, Sakya, Kagyu and Gelug. He also held panel discussions with experts and scholars from the Tibet Autonomous Regional Academy of Social Sciences and Tibet University, and lecturers from the Tibet Buddhism Academy, the report said.
The report pointed out that after 25 years of sutras study, Gyaltsen Norbu attained the highest degree in exoteric teachings of the Gelug school of Tibetan Buddhism, equivalent to a doctoral degree in modern education, in 2021.
Chinese appointed Panchen Lama Gyaltsen Norbu has reportedly visited the Tashilhunpo Monastery, which is located at the foothills of Nisiri Mountain on August 2, 2022. Reports suggest that Gyaltsen Norbu has also visited Sangding Monastery and Lhoka City last month where he gave lectures in which he spoke about the "Sinicization of Tibetan Buddhism".
By Team TRC