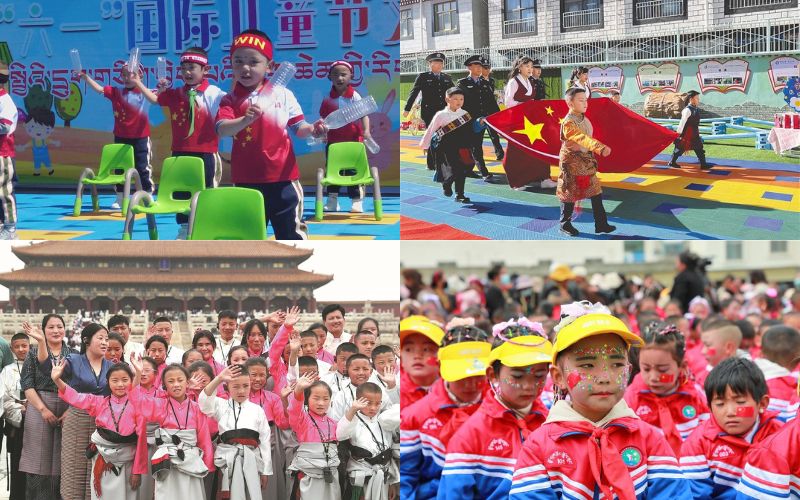 CCP latest propaganda targets young minds on Children's Day
In occupied Tibet, Children's Day on June 1st became a platform for political propaganda orchestrated by the Chinese Communist Party (CCP).
As reported by Stratnewsglobal, Children's Day in China has transformed into an occasion for the CCP to further its political agenda by educating young citizens through various activities. Schools play an active role in organizing events where children are encouraged to sing patriotic songs, recite political slogans, and praise the Communist Party.
Children's Day celebrations in CCP-occupied Tibet were no different; in a display of the CCP propaganda efforts, 40 Tibetan children from Yushu prefecture were invited for a five-day visit to Beijing, jointly hosted by China News Service, the government of Yushu and Beijing-based Youth Assistance Headquarters, and organized by China News Network. This serves as another example of the CCP's strategy to promote its ideology and strengthen its grip on the younger generation.
The "research visit to the motherland" to "the capital of the great motherland" was expected "to enrich the children's vacation, enabling them to learn about the cultural deposits of Beijing and the country's development, and to broaden their horizons at the same time".
An orchestrated visit to a Chinese Super League (CSL) match at the renovated Workers' Stadium in Beijing was also executed. "The turf here is like the meadow in my hometown. I feel familiar with the ground. I'm a defender, dreaming to play football at such a great stadium. Now, my dream has come true," 10-year-old Songbao was quoted to have remarked. Pictures of Tibetan kids playing football were shared across Chinese social media handles. On June 1, they watched the flag-raising ceremony in Tiananmen Square. A picture showed children taking a group photo in Tiananmen Square after the flag-raising ceremony wearing "national costumes and red scarves". They also visited the Palace Museum in Beijing on May 31, 2023, as part of the Children's Day celebrations.
This program is reportedly the first initiative of a "Sino-Singapore Charity's "Dream Realization Project". This initiative reeks of China's oft-repeated "development" propaganda which claims that China "Developed" Tibet and is doing a favour for the otherwise undeveloped Tibet. This is based on Xi Jinping's theory that "Caring for and helping children from difficult families, especially orphans and disabled children, allows all children to feel the warmth of the party and the government and have a happy childhood."
Several other programs were reportedly held across Tibet. On June 1, under the joint planning and organization of Village Work Teams and the village "two committees" of the Public Security Department in several counties carried out the activity of "Celebrating June 1st and Thanks to the Party", where the members of the village work team explained to the children "relevant knowledge such as building a sense of community of the Chinese nation so that the children felt the care and concern of the party and the government". Videos of Tibetan kids dancing to Bollywood songs were also widely shared across social media, reminding that music knows no boundaries or man-made censorship rules.
This comes amidst rising concerns regarding the colonial-style boarding schools in Tibet. According to Tibet Action Institute, one million Tibetan children are forced to live in Chinese government colonial boarding schools and preschools. This includes an estimated 100,000 children aged 4-6 in preschools, and 800,000-900,000 children aged 6-18 in primary and secondary schools. Children live apart from their families, are made to speak Chinese, and are blocked from accessing their own language and culture. Families are coerced into sending their children, both through threats by authorities, and lack of alternatives. While the world continues to hold CCP accountable for these colonial style boarding schools which separate Tibetan kids from their families, China continues to brainwash kids and Sinicize Tibetan education, language and culture.
Edited and collated by Team TRC