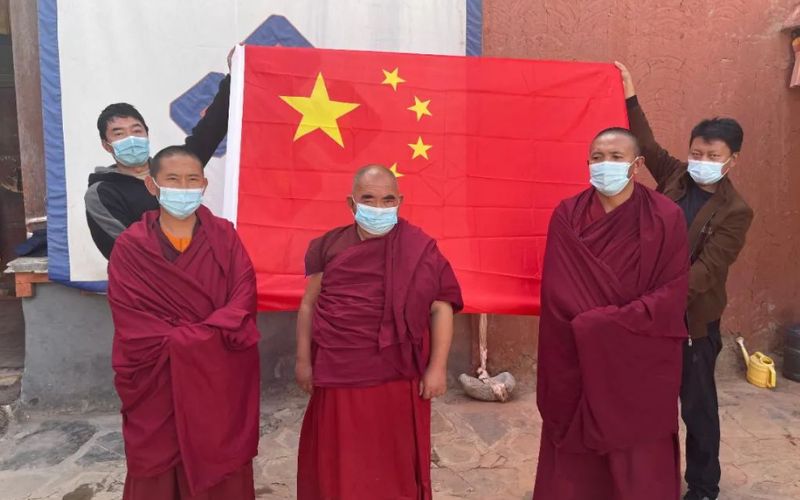 CCP propaganda machines prepare Tibet to 'welcome' 20th Party Congress
Lhasa: With Chinese Communist Party's 20th Party Congress set to begin on October 16th, Chinese social media handles are replete with reports and pictures of events held in occupied Tibet to "welcome" the Congress as well as stories of "development" in Tibet since China "liberated" Tibet; this is in stark contrast to the actual situation in Tibet where stark human rights violations are happening and it is carrying out Sinicization of Tibet's religion, culture, traditions, language and education.
CCP has been holding rampant brainwashing campaigns & tightening restrictions (COVID19 giving them an opportunity to further tighten the surveillance & restrictions) in Tibet in anticipation of this event. A recent report by Chinese Human Rights Defenders revealed that as the 20th Party Congress nears, the CCP is asserting its control over society in three major ways: Human rights defenders are languishing in pre-trial detention; Christian churches have been shut down and COVID is used for political control.
Chinese social media handles are sharing images of several programs which are being held in Tibet ahead of the grand event. Programs are organised in primary and secondary schools, and pictures show drawing competitions and other activities being carried out. Programs for veterans are also conducted.
"Cultural arts festival and National Unity Art performances" and sanitation campaigns are also being organised to "welcome" the 20th National Congress. Soccer and basketball competitions, cultural programs with themes like "National Unity, One Family, One Heart and One Heart to welcome the 20th National Party Congress" and housebuilding activities where "young people unite, build houses together and welcome the 20th National Congress" are other mediums through which Chinese Communist Party is exerting control over and brainwashing Tibetans ahead of the event. It is also meant to help construct a politically stable atmosphere in the region before the event.
This event and the preparations are happening even while the government's mishandling of the COVID19 epidemic in the region are receiving worldwide criticism. The harsh COVID-19 containment restrictions China is imposing across Tibet led to public resentment in the capital of Lhasa, where residents who have tested positive are being quarantined in empty stadiums, schools, warehouses and unfinished buildings. Tibetans took online to Weibo, Douyin and other Chinese social media platforms to draw attention to the situation in the camps that lack adequate hygiene, food and medical care.
International Campaign for Tibet had reported that thirty-eight delegates listed as Tibetan—including one from the Monpa people, one from the Lhoba people and one without any ethnic identification—are expected to participate in the upcoming 20th National Congress of CCP. The report observed that the Tibetan delegates to the 20th Congress account for about a mere 1.65% of the total 2,296 delegates, although Tibetan territory accounts for more than a quarter of China's current landmass.