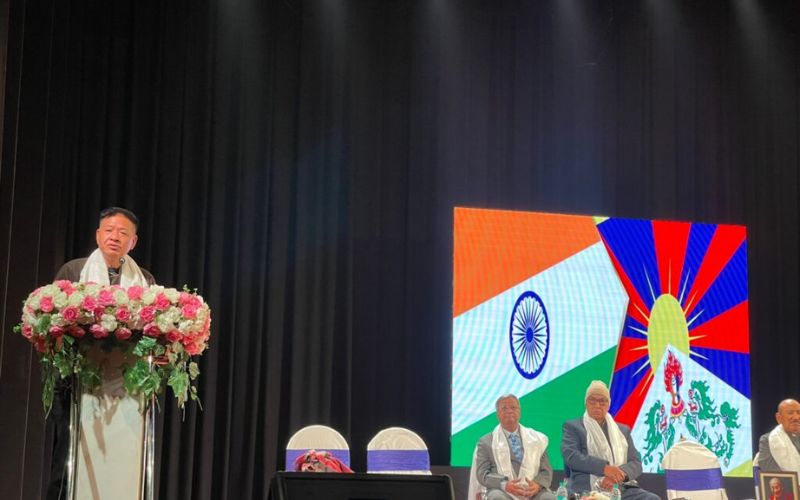 CCP's illegal construction of mega dams in Tibet endangering South Asia's water security: Sikyong Penpa Tsering
The Central Tibetan Administration's Sikyong Penpa Tsering attended the inaugural of the one-day seminar held at EZCC Hall (Salt Lake-Kolkata) and organised by Smt. Ruby Mukherjee, the Regional Convenor of Eastern Region III, Core group for Tibetan Cause-India.
The seminar focused on the "PRC's violation of human rights in Tibet, the destruction of Tibet's environment (deforestation, illegal mining, dam construction—violation of the right to water)," the awarding of the Bharat Ratna to His Holiness the Dalai Lama, the authenticity of China's border with India, and the liberation of Kailash Mansarovar.
The day-long seminar began on January 4 with a performance of traditional Bengali dance in Sikyong's reception. Following Smt. Ruby Mukherjee's opening remarks, ceremonial Tibetan khatags were presented to the chief guest and other dignitaries on the dais.
The event's chief guest, Sikyong Penpa Tsering, addressed the audience, highlighting historical and cultural ties between Tibet and India dating back to the 7th century. In his speech, he emphasised Tibet as a repository of ancient Indian traditions, mentioning the derivation of Tibetan scripts from Devanagri and the subsequent adoption of Buddhism from India.
Furthermore, he informed the gathering of China's mistreatment of Tibetans' human rights and cultural aspects, including the establishment of colonial boarding schools to separate young Tibetans from their traditions, the implementation of a grid-lock system to constrain Tibetans, the collection of DNA samples and iris scanning to monitor dissidents inside Tibet, and other troubling issues.
In addition to that, "almost 80% of Tibetan children were forced to attend colonial-style Chinese boarding schools where they were not taught the Tibetan language or culture and were instead trained in Chinese ethos. China's aggressive policy of "consolidating the sense of a single Han national identity," which aims to exterminate and Sinicize Tibetan identity and has led Tibetans inside Tibet to self-immolate as a form of peaceful protest, was also criticised," said Sikyong.
He also notified of the PRC's environmental destruction on the Yarlung Tsangpo (Brahmaputra) in Tibet, which threatens the water security of Assam and Bangladesh and may even cause a natural disaster in these riparian areas. Muddy water was seen flowing down the Brahmaputra from Tibet in 2018, apparently caused by construction activities upstream.
Edited & Collated by Team TRC