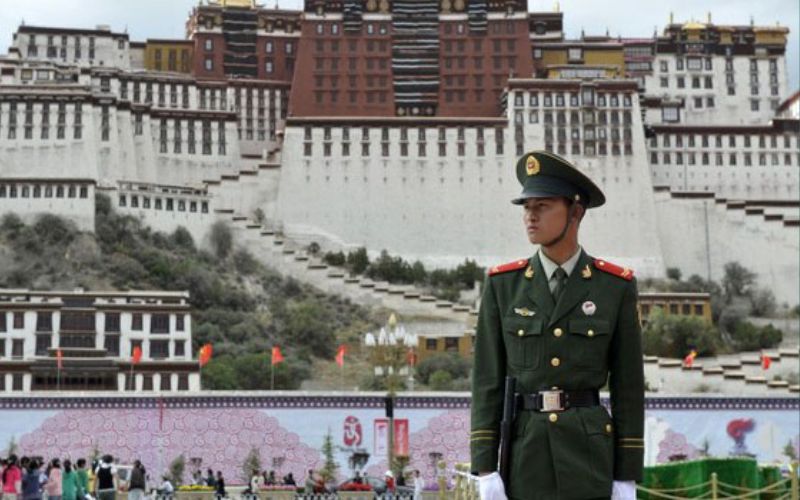 CCP's latest propaganda tool to interfere in Tibetan Buddhism and reincarnation: TV shows
In its attempts to interfere in the reincarnation debates of His Holiness the 14th Dalai lama and further Sinicize Tibetan Buddhism, Chinese Communist Party has started propaganda TV productions.
"The just finished TV series Tashilhunpo on China Central Television gave a detailed account of the search for the reincarnations of the Dalai Lama and Panchen Lama, who hold equal positions in Tibetan Buddhism", reported Global Times. It reportedly emphasized that "this religious ritual has been supervised by the Chinese central government and conducted within Chinese territory since the late 13th century".
China has previously conducted seminars, exhibitions, social media posts welcoming people to visit "China's Tibet" and foreign vloggers and influencers to paint a rosy image of occupied Tibet where human rights violations continue to happen.
The report has claimed that "China is the birthplace of Tibetan Buddhism and the Living Buddhas are Chinese" to assert that the reincarnation of the Dalai Lama must be carried out within Chinese territory. Another argument is that, "any religious affairs are part of China's domestic affairs, so it must be done in accordance with Chinese law".

The report also mentions the recent instance of Japan Buddhist Conference for World Federation (JBCWF) condemning China for interfering in the selection of Tibetan incarnate Lamas and claiming authority to appoint the reincarnation of the 14th Dalai Lama, which it said, "totally exposes its ignorance of history and China's religious policy".

After unlawfully annexing Tibet, CCP is now trying to control the reincarnation process of Dalai Lama, which is deeply rooted in sacred centuries-old Buddhist beliefs. Despite being a self-declared atheist state, China has tried to exert control over and misappropriate Tibetan Buddhism and popularise Tibetan Buddhism with Chinese characteristics. Tibet's Panchen Lama, one of the world's youngest and longest-serving political prisoners, was just six years old when China abducted him and appointed a puppet in his place.
Since his appointment as the 11th Panchen Lama by China in 1995, Gyaltsen Norbu has been presented as the 'face of Tibetans and Tibetan Buddhism'. PRC has been campaigning hard for Norbu; he is now a member of the Standing Committee of the National Committee of the Chinese People's Political Consultative Conference, Vice President of the Buddhist Association of China and President of the Association's Tibet branch. Over the years, Norbu has undertaken numerous domestic and foreign trips as a Chinese puppet and made various speeches to talk about Buddhism, Tibet and China. However, CCP's efforts to gain recognition and acceptance from the Tibetans have largely failed.
In 2007, the State Administration of Religious Affairs institutionalized the right of the CCP to decide which lamas should be authorized to reincarnate, to control the process for identifying the reincarnations, and to certify what reincarnations were genuine through its infamous Order no. 5. The regulation was widely criticized abroad, where the paradox of an atheist party asserting control of reincarnation was easily ridiculed. According to Bitter Winter, it remains a powerful tool through which the CCP controls Buddhism in Tibet and beyond.
HH Dalai Lama has stated that no recognition or acceptance should be given to a candidate chosen for political ends by anyone, including those in the People's Republic of China. Tibetan administration in exile has also rejected PRC's claim over Tibetan reincarnation.

The report also quotes the "11th Panchen Lama" (Gyaltsen Norbu, China-elected Panchen Lama): "The reincarnation system of Tibetan Buddhism not only serves the religion, but also serves society, so it must be in line with the needs of social progress."
It is important to note that this report comes as Tibetans inside and outside Tibet welcomed the Tibetan New Year, Losar on February 21st. In a meeting with Senior Communist Party of China (CPC) official Shi Taifeng, China elected Panchen Lama had recently said "he would firmly bear in mind the earnest instructions issued by General Secretary Xi Jinping, conscientiously study and implement the guiding principles of the 20th CPC National Congress, and actively contribute to aligning Tibetan Buddhism to the Chinese context and socialist society".
A recent report in Foreign Policy had observed that a broader campaign to popularize propaganda in Chinese film and TV is being run by CCP. "Since the early 2000s, main melody productions have been market-based shows singing mainstream tunes and glorifying the social and political lines that the CCP wants the public to value and imitate. It's a broad list, from encouraging good behavior in public places to honoring the CCP's past struggles, strengthening trust of current policies, or kindling patriotism and cultural confidence". The TV show that spreads lies about reincarnation could be an offshoot of such 'main melody' productions.