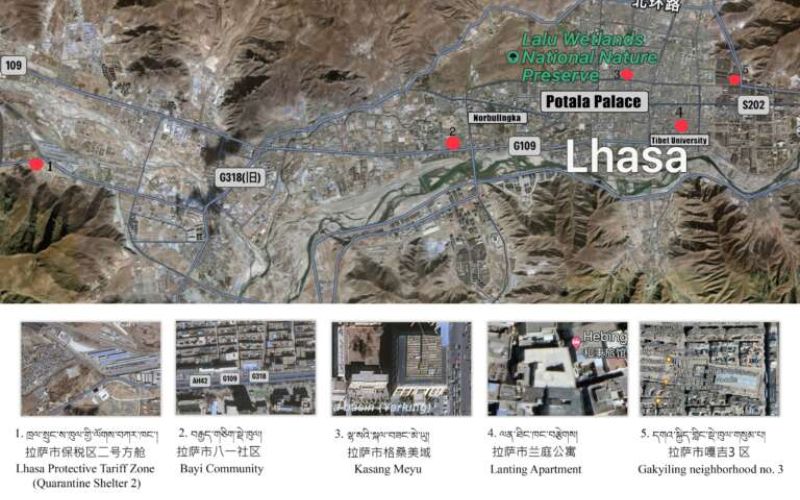 CCP's strict enforcement of zero-Covid policy in Tibet forces five Tibetans to commit suicide: TCHRD
Source: TCHRD
Chinese Communist Party's strict enforcement of Zero-COVID policy in occupied Tibet has forced five Tibetans to commit suicide, reported Tibetan Centre for Human Rights and Democracy.
China's strict enforcement of its zero-Covid policy in central parts of Tibet has so far forced five Tibetans to commit suicide between 23 and 25 September in Lhasa city, observed the report. Videos of some of them jumping to death from a top building have made their way online.
According to information published on social media platforms such as Weibo and WeChat, an unidentified person jumped to death on 23 September in Gakyiling neighborhood 3 in Lhasa city.
Five people who died of suicide on 23, 24 and 25 September were from Lhasa Comprehensive Protective Tariff Zone no. 2(West Lhasa), the Bayi community (southwest Norbulingka), Lanting apartment (near Tibet University), and Gakyiling neighborhood 3 (east of Lhasa).
Social media posts about hardships faced by Tibetans are immediately deleted and many of the accounts making such posts are forcibly closed. A Weibo post published on the evening of 24 September alongside a picture of an apartment building in Gakyiling neighborhood 3 read: "It rained today in Lhasa as if to mourn the person who died. Only the dead can reach heaven. The human realm is hell. Only those living in Lhasa can understand the situation of the epidemic in Lhasa. I request everyone to look after us. I request the authorities to stop deceiving the masses. The masses have suffered too much. The China Central Television and People's Daily [major state media] may not see this but I thought everyone should see the situation posted below".
On 25 September, another post with a picture of a dead person lying on its back on a flight of stairs was posted with a message: "What does Covid prevention and control mean to us? Every life [lives of ordinary people have no value]. Despair. Desperation. No one speaks up. Even when someone speaks, [his voice] cannot go beyond the Dangla mountains [central Tibet]. These lives must be happy in heaven because they have escaped this hell realm."
Tibetans in the region are taking to social media to reveal the harsh conditions they are subjected to under the name of Chinese Communist Party's infamous Zero-COVID policy. Videos that show Tibetans talking about poor quarantine facilities with no sanitation/ beds and no caretakers, harsh quarantine rules, crowded testing sites with no distancing rules followed, unavailability of food and medicines, barely edible food, no potable water and unplanned lockdowns leaving many helpless are being shared in social media, raising concerns about the safety of Tibetans inside occupied Tibet.
Read the complete news here
Edited & Collated by Team TRC