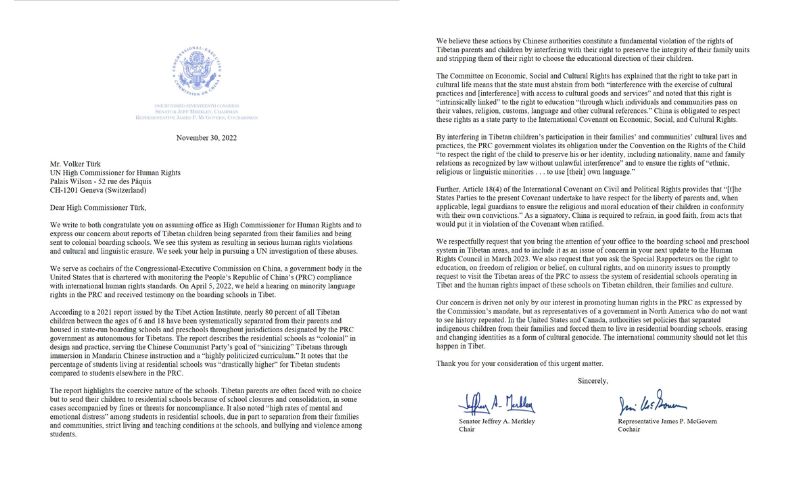 CECC appeals for UN investigation into Tibet's forced family separations
Source: CECC
The bipartisan and bicameral Congressional-Executive Commission on China (CECC), chaired by Senator Jeff Merkley (D-OR) and Cochair, Representative Jim McGovern (D-MA), respectively, asked the United Nations High Commissioner for Human Rights, Volker Türk, to conduct an investigation into the forcible separation of children from their families in Tibet.
The Chairs cite a report from the Tibet Action Institute to say that nearly 80% of all Tibetan children are systematically taken away from their parents and sent to state-run boarding schools with the goal of "Sinicizing" Tibetans with a "highly politicized curriculum." "We see this system as resulting in serious human rights violations and cultural and linguistic erasure," the Chairs concluded.
The report highlights the coercive nature of the schools. Tibetan parents are often faced with no choice but to send their children to residential schools because of school closures and consolidation, in some cases accompanied by fines or threats for noncompliance. It also noted "high rates of mental and emotional distress" among students in residential schools, due in part to separation from their families and communities, strict living and teaching conditions at the schools, and bullying and violence among students.
In letter, they believed these actions by Chinese authorities constitute a fundamental violation of the rights of Tibetan parents and children by interfering with their right to preserve the integrity of their family units and stripping them of their right to choose the educational direction of their children.
Read the complete letter here.
Edited & Collated by Team TRC