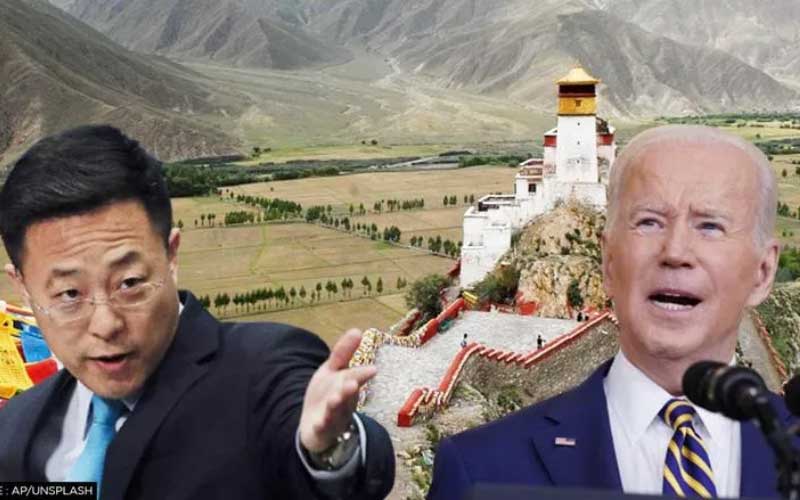 China accuses US For Interfering in Its Internal Affairs Using 'Tibet Issues'
Beijing: China has warned the United States against using issues related to Tibet to interfere in Beijing's internal affairs. The spokesperson of the Chinese Foreign Ministry, Zhao Lijian issued a statement saying that the United States should take real steps to honor its commitment to recognize Tibet as part of China and not support Tibet's independence and stop interfering in Beijing's internal affairs through Tibet-related problems.
He also warned that the US should also stop supporting the anti-China separatist operations and that China will take the necessary steps to protect its sovereignty, security and economic interests.
The remarks were made in answer to a question concerning the US special coordinator for Tibet issues, Uzra Zeya's meeting with the head and representative of the 'Tibetan government-in-exile' in India on Wednesday.
Responding to the same, Zhao said that 'Tibetan government-in-exile,' is not recognized by any country in the world and that it is an outright separatist political entity and an illegal organization entirely in violation of China's Constitution and laws.
The Chinese official also claimed that the 14th Dalai Lama is a political exile who has long been involved in separatist operations and has endeavored to divide Tibet from China. The spokesperson further said that the Special Coordinator for Tibet Issues by the US is an intervention in China's domestic affairs.
Zhao emphasized that Tibetan affairs are China's internal affairs and should not be interfered with by other forces. He urged the US to follow through on its vow to recognize Tibet as a part of China and not encourage "Tibetan independence."
Since fleeing Tibet in 1959 after a Chinese attack, the 14th Dalai Lama, known as Gyalwa Rinpoche to the Tibetan people, has been living as a refugee in India. Himachal Pradesh's Dharamshala is home to the Tibetan government-in-exile. In India, there are over 160,000 Tibetans.
(Information supplied by Republic World)
By Team TRC