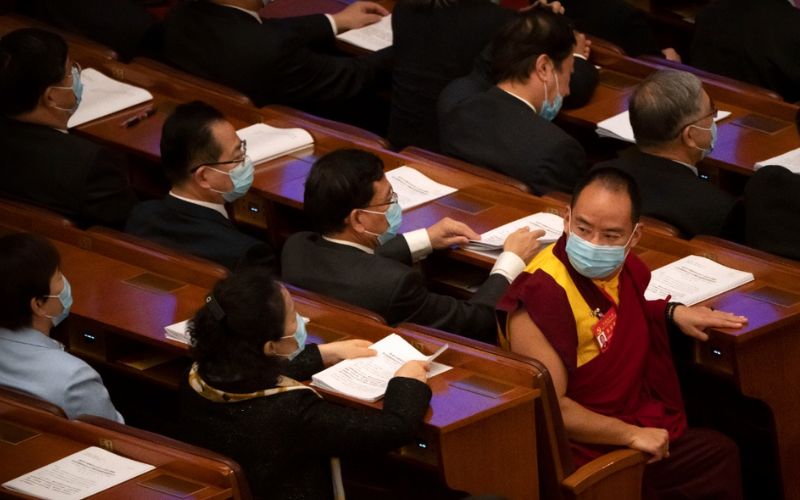 China-appointed Panchen Lama attends 20th CCP Congress opening session
Beijing: China-appointed Panchen Lama Gyaltsen Norbu was spotted among the delegates attending the opening session of the 20th Chinese Communist Party Congress here October 16th. This could be seen as Chinese attempt to garner support and credibility for their candidate, who Tibetans haven't accepted as the real Panchen Lama.
"Spotted: the Beijing appointed Panchen Lama (bottom of the screen, in yellow, near the aisle) among the delegates listening to Xi's speech at the Communist Party Congress", tweeted journalist Ananth Krishnan.
"Look who was at the #20thCPCNationalCongress opening session today? #China selected #PanchenLama. Since he may not be a #Chinese Communist Party member, I guess he was a "specially invited delegate", tweeted Bhuchung K. Tsering, Vice President, International Campaign for Tibet.
After the 10th Panchen Lama's death in 1989, the 14th Dalai Lama Tenzin Gyatso had identified 6-year-old Gedhun Choeki Nyima as the 11th Panchen Lama. Subsequently, the People's Liberation Army abducted the 6-year-old Lama and his family, with their whereabouts still unknown to this day. Instead, Gyaltsen Norbu was recognized as the 'official' 11th Panchen Lama by the Chinese government in 1995 - a move since then decried by His Holiness the 14th Dalai Lama and the Tibetan community alike.
Since his appointment as the 11th Panchen Lama by China in 1995, Gyaltsen Norbu has been presented as the 'face of Tibetans and Tibetan Buddhism'. PRC has been campaigning hard for Norbu; he is now a member of the Standing Committee of the National Committee of the Chinese People's Political Consultative Conference, Vice President of the Buddhist Association of China and President of the Association's Tibet branch. Over the years, Norbu has undertaken numerous domestic and foreign trips as a Chinese puppet and made various speeches to talk about Buddhism, Tibet and China. However, CCP's efforts to gain recognition and acceptance from the Tibetans have largely failed.
The 20th Party Congress of the Chinese Communist Party (CCP) will determine China's leadership for the next five years, and be a defining moment for politics, policy, and the world.
Xi Jinping, in his speech said that China must strengthen the unity of all ethnic groups and overseas Chinese without mentioning Xinjiang, where China has been accused of human rights abuses against the Uygurs and members of other minorities, China has denied all of the charges Xi Jinping, in a speech said that China must strengthen the unity of all ethnic groups and overseas Chinese without mentioning Xinjiang or Tibet. Earlier, ICT had observed that the Tibetan delegates to the 20th Congress account for about a mere 1.65% of the total 2,296 delegates, although Tibetan territory accounts for more than a quarter of China's current landmass.
Edited and Compiled by Team TRC