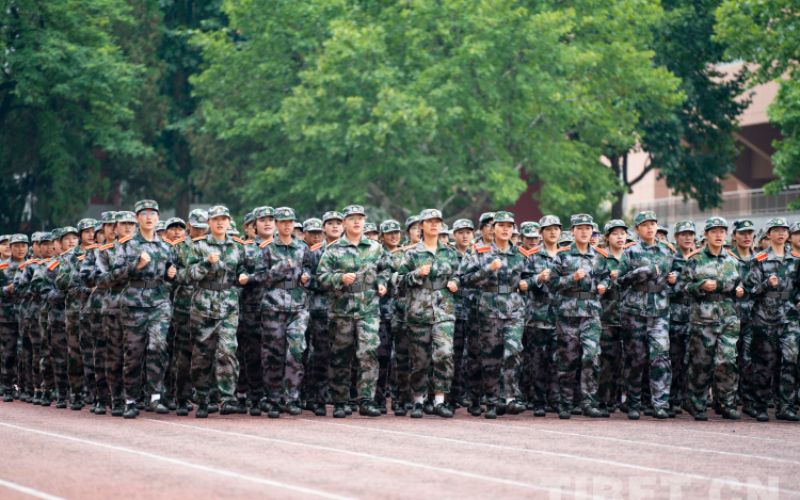 China conducts Military Training for students at Tibet University for Nationalities
Reports indicate that students at Tibet University for Nationalities, have been subjected to military-style training activities, including drills and exercises to "build a solid sense of the Chinese nation's community, strengthen national defense education, and anti-separatist education" on campus.
The report states that "during the school's Tibet Public School period, more than 2,100 teachers and students went to the front line of Tibet's counterinsurgency struggle, and more than 60 of them shed blood on the battlefield". It goes on to add that "a total of 52 students from Tibet University for Nationalities are currently serving in the army".
Yi Guangchuan, deputy director of the Student Affairs Department of Tibet University for Nationalities is quoted to have said that, "military training is not only military training, but also an extension and important supplement for the school to strengthen ideological and political education, build a solid sense of the Chinese nation's community, strengthen national defense education, and anti-separatist "education".
The Chinese government is engaging in efforts to impose its culture and language on young Tibetan students through a military training program. These activities are raising concerns about the erasure of Tibetan identity and cultural heritage in Tibet. Under the pretext of military training, the Chinese government is influencing young Tibetans with Chinese language, customs, and traditions.
According to the website, Tibet University for Nationalities, located in the ancient city of Xianyang, is an "ethnic college" under the jurisdiction of the and is the first university of higher education established by Tibet's municipal government. Founded in 1958, it was called Tibet Public School and renamed Tibet University for Nationalities in 1965.
Chinese authorities in the autonomous body of Tibet are forcing the school-going students to undertake military training during their vacations to indoctrinate them in the ideology of China's ruling Communist Party, cited Radio Free Asia, in its report published in 2021. The move is a part of Beijing's plan to weaken cultural ties, the students are being sent to Lhasa and several other areas to attend two training camps set up in southern Tibet's Nyingtri. In 2019, Radio Free Asia had reported that the University had ended intruction in Tibetan for Tibetan students.
The Chinese authorities are also gearing up for increased control over Tibetan Buddhism, where monasteries are forbidden to give traditional monastic education which forms an integral part of Tibetan Buddhism.
These measures are part of a broader strategy by the Chinese Communist Party (CCP) and its leader, Xi Jinping, to assimilate Tibetans into the dominant Chinese culture, erasing their unique language and traditions. This aligns with a pattern of suppressing Tibetan cultural expression and religious practices, particularly Tibetan Buddhism.
The Chinese government's controversial military training program is viewed as an attempt to exert control over the younger generation of Tibetans. By influencing children at an early age and instilling them with Chinese values, language, and nationalistic ideals, the CCP aims to shape the future of Tibet in accordance with its political objectives. This approach is a part of a broader strategy to weaken Tibetan cultural identity and reduce resistance to Chinese rule in Tibet.
Edited and collated by Team TRC