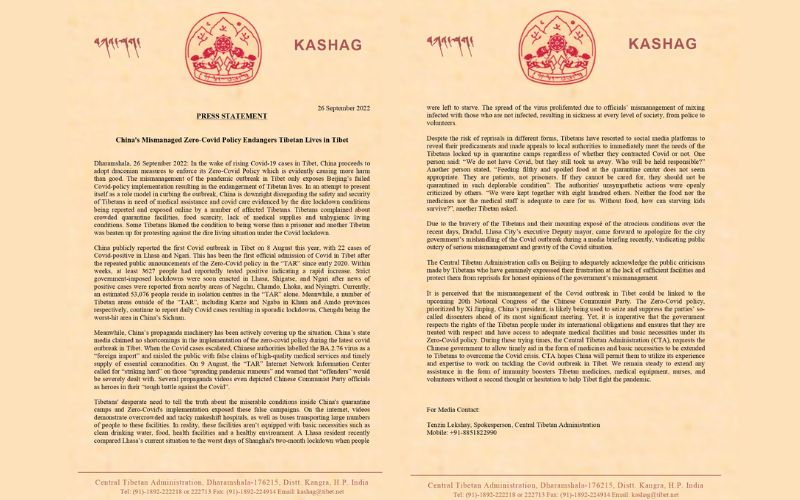 China disregarding safety of Tibetans in need of COVID care: Kashag
Source: Tibet.net
Dharamshala: The Central Tibetan Administration issued a statement today, which states that the mismanagement of the pandemic outbreak in Tibet only exposes Beijing's failed Covid-policy implementation resulting in the endangerment of Tibetan lives. In an attempt to present itself as a role model in curbing the outbreak, China is downright disregarding the safety and security of Tibetans in need of medical assistance and covid care evidenced by the dire lockdown conditions being reported and exposed online by a number of affected Tibetans.
The Central Tibetan Administration calls on Beijing to adequately acknowledge the public criticisms made by Tibetans who have genuinely expressed their frustration at the lack of sufficient facilities and protect them from reprisals for honest opinions of the government's mismanagement.
Tibetans complained about crowded quarantine facilities, food scarcity, lack of medical supplies and unhygienic living conditions. Some Tibetans likened the condition to being worse than a prisoner and another Tibetan was beaten up for protesting against the dire living situation under the Covid lockdown.
Meanwhile, China's propaganda machinery has been actively covering up the situation. China's state media claimed no shortcomings in the implementation of the zero-covid policy during the latest covid outbreak in Tibet. When the Covid cases escalated, Chinese authorities labelled the BA.2.76 virus as a "foreign import" and misled the public with false claims of high-quality medical services and timely supply of essential commodities.
On 9 August, the "TAR" Internet Network Information Center called for "striking hard" on those "spreading pandemic rumours" and warned that "offenders" would be severely dealt with. Several propaganda videos even depicted Chinese Communist Party officials as heroes in their "tough battle against the Covid".
A Lhasa resident recently compared Lhasa's current situation to the worst days of Shanghai's two-month lockdown when people were left to starve. The spread of the virus proliferated due to officials' mismanagement of mixing infected with those who are not infected, resulting in sickness at every level of society, from police to volunteers.
Read the complete Statement here.
Edited & Collated by Team TRC