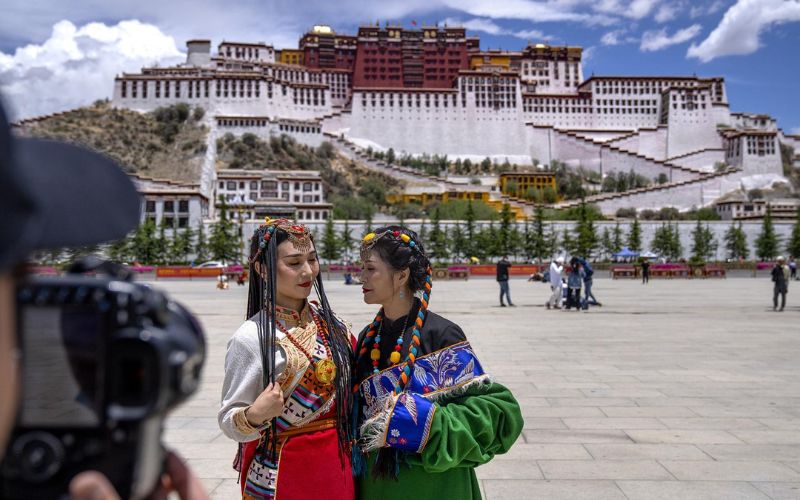 China Exploits Tourism to Distract from Human Rights Violations in Occupied Tibet
The Chinese Communist Party (CCP) is using tourism as a tool to divert attention from the grave human rights violations and environmental degradation taking place in occupied Tibet. By promoting speeches from so-called "experts," China aims to portray itself in a favorable light while obliterating the historical and cultural significance of Tibetan heritage.
According to reports, the keynote forum of the Fifth China Tibet Tourism and Culture International Expo was held in Lhasa on 17 June. Eleven Chinese and foreign politicians, experts, scholars and entrepreneurs gave speeches on the theme of the forum: New Era, New Starting Point and New Opportunity - Empowering the Construction of "Three Districts and One Highland".
The development of Tibetan culture and tourism became one of the main speeches of some experts. Deals on 60 projects with a total value of over 53 billion yuan (about 7.44 billion U.S. dollars) were signed on Jun. 17 at a culture and tourism expo in Lhasa, Tibet.
The recent "Fifth Tibet Expo" held in Lhasa showcased the CCP's manipulative agenda. Political leaders, both Chinese and foreign, along with selected scholars and experts, congregated to discuss the alleged development of cultural tourism in Tibet. However, behind this façade lies a deliberate attempt to dilute the Tibetan culture, marginalize its people, and exploit its pristine environment.
Despite China's strict information blockade and denial of free access to Tibet for journalists and Tibetan exiles, tourism is allowed to flourish under CCP's supervision. This strategic move not only generates revenue for China but also enables the regime to maintain a false image of progress. However, the consequences are dire.
As tourists flock to Tibet, the region is suffering from an alarming garbage crisis. Tonnes of plastic bottles, clothing items, metallic and plastic containers, and even the remains of dead yaks and sheep are being thoughtlessly discarded along the highways by visitors. This disregard for the environment is leading to the pollution of the "Roof of the World," tarnishing its natural beauty and endangering the delicate ecosystem.
China is utilizing tourism as a means to project a favorable image and downplay the cultural significance of the Tibetan people. Tibetans in Tibet and in exile are concern that the Chinese Communist Party's (CCP) agenda, which emphasizes economic gain and strategic control while disregarding the preservation of Tibet's natural resources.
One of the most egregious examples of China's callous approach is its treatment of the iconic Potala Palace. For the CCP, this UNESCO World Heritage site is nothing more than a project to attract tourists. Its musealization and transformation into a mere tourist attraction diminishes the palace's historical, religious, and cultural significance. The deliberate erasure of the past seeks to rewrite history and deny Tibetans their rich heritage.
It is crucial to recognize China's exploitation of tourism as part of a broader plan to tighten its grip on Tibet economically and strategically. The CCP's actions trivialize Tibetan culture, marginalize its people, and damage the region's natural resources. It is incumbent upon the international community to pay attention to these abuses and hold China accountable for its disregard of human rights and the environment in Tibet.
Edited and collated by Team TRC