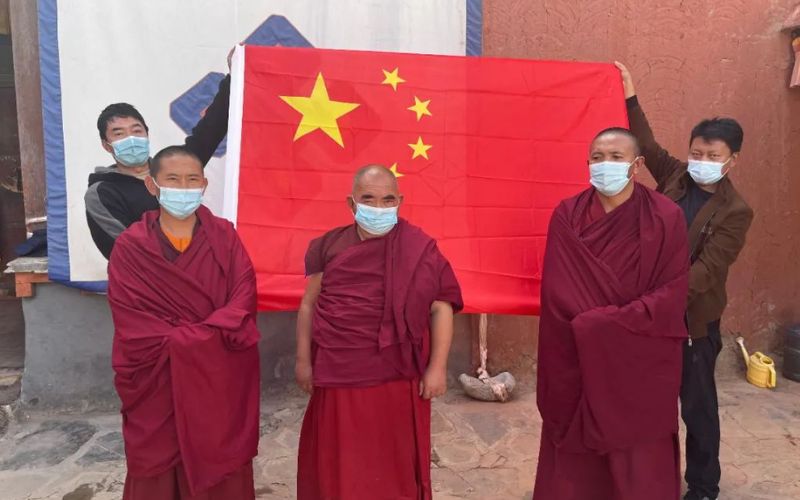 China holds Flag Raising Ceremonies across occupied Tibet to mark China's National Day
While Tibetans in exile and activists marked the 73rd anniversary of China's National Day with protests and rallies, flag-raising ceremonies were held to "celebrate" the 73rd anniversary of the founding of the People's Republic of China across occupied Tibet. A flag-raising ceremony was held at the Potala Palace square in Lhasa, capital of southwest China's Tibet Autonomous Region, Oct. 1, 2022, reported Chinese news agency Global Times. Tibet was unlawfully occupied by Chinese Communist Party and continues to carry out grave human rights violations in the region.
Social media posts suggest that Gonggar County and Nyingchi "grandly celebrated by "raising the national flag and singing the hymn" and religious clubs in Nimu County carried out "National Day-themed advertising and educational activities". Posts also showed people in the agricultural and pastoral areas of Changdu raising the national flag and singing the national anthem and those in Nimu County holding a ceremony to "raise the national flag and sing the national anthem" and Zanda County holding online and offline flag-raising ceremony. Many similar posts with pictures of Tibetans holding China's national flag were also shared in social media by Chinese handles.
A video also showed patients forced to celebrate China's National Day in a COVID19 quarantine center in Lhasa, Tibet. This "celebration" comes while Tibetans in occupied Tibet are being tortured in the name of CCP's Zero-COVID Policy; some recent videos had shown the harsh treatment meted out to Tibetans. China's strict enforcement of its zero-Covid policy in central parts of Tibet has so far forced five Tibetans to commit suicide between 23 and 25 September in Lhasa city, reported Tibetan Centre for Human Rights and Democracy.
This comes ahead of the 20th CCP Congress which is scheduled to be held in October 2022. CCP has been holding rampant brainwashing campaigns & tightening restrictions (COVID19 giving them an opportunity to further tighten the surveillance & restrictions) in Tibet in anticipation of this event.
Edited and Collated by Team TRC