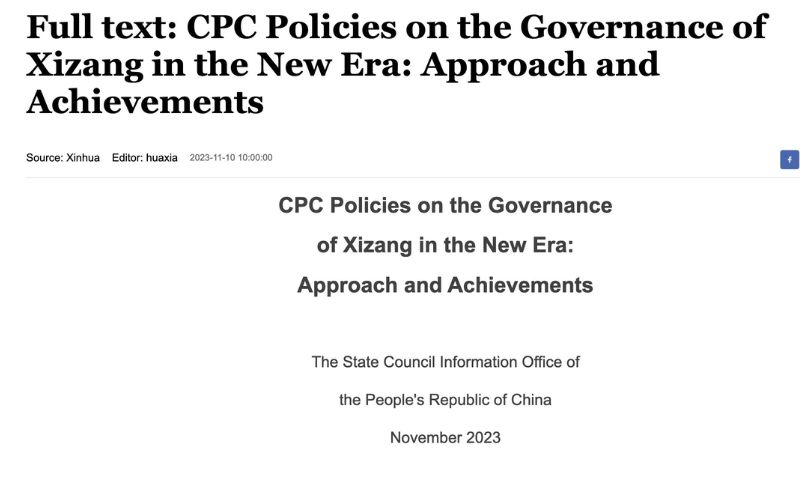 China Releases White Paper on Tibet as Exile Tibetans Discuss Future
China released its 19th white paper on Tibet on Friday, November 10, 2023, as the exile Tibetan administration holds its fifth strategic meeting since 2021 and the exile Tibetan civil society holds its fourth conference on Tibet's future.
The white paper, titled "CPC Policies on the Governance of Xizang in the New Era: Approach and Achievements," released by the State Council Information Office and followed by a press conference.
China has released 18 white papers on Tibet since 1992. The last white paper, released in 2021, was titled "Tibet Since 1951: Liberation, Development and Prosperity."
China claims that Tibet has been part of China since ancient times, but Tibetans and many historians say that Tibet has a long history of independence.
The timing of the white paper is significant, as it comes as the exile Tibetan community is grappling with its future in the wake of the Dalai Lama's retirement. The exile Tibetan administration is currently developing a new strategic plan to guide its work in the coming years.
The exile Tibetan civil society conference is also discussing a range of issues related to Tibet's future, including self-determination and how to face up to the future after His Holiness the Dalai Lama.
The Chinese government is using the white paper to promote its narrative of Tibet as a peaceful and prosperous region under its rule. However, exile Tibetans and human rights groups reject this narrative, arguing that China's rule in Tibet is repressive and authoritarian.
The conference of exile Tibetans is an opportunity for them to come together and discuss their shared future and to urge the international community to support their struggle for freedom.
China has been doing human rights abuses in Tibet, including arbitrary detention, torture, and restrictions on religious freedom. His Holiness the Dalai Lama, the spiritual leader of Tibet, has lived in exile in India since 1959.
.Edited and collated by Team TRC