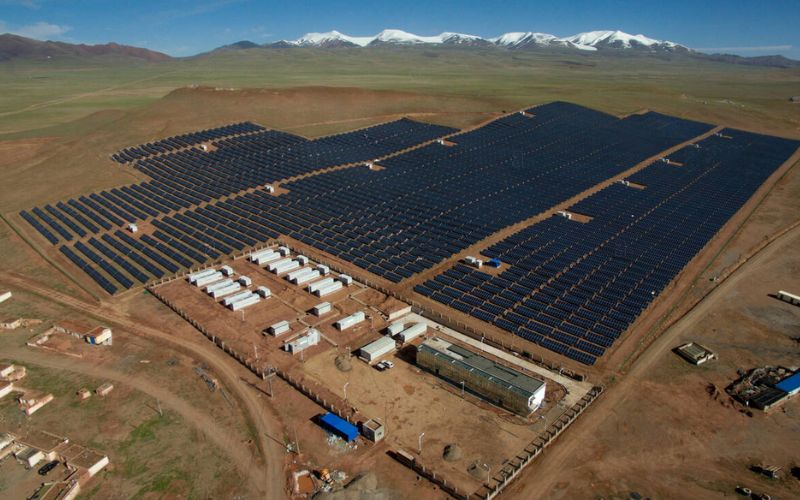 China resettled Tibetan nomads in order to transform them into solar farms
Tso Nyi (Shuanghu; Twin Lakes) solar farm: highest district on the Tibetan plateau. At 4920m (16,142 ft), Tso Nyi, now called Shuanghu by China is the highest district centre. By resettling nomads, it's now growing into a full-fledged township with a micro power grid. Post 2016, the company Sungrow Power Supply Co Ltd. supplied 20MW inverters: 13MW for solar PV & 7MW for energy storage. The site is a remotely controlled micro-grid", tweeted Kyang Thang.
China claims nomads as "ignorant, backward and irrational", whose "overgrazing" caused significant damage to the Tibetan grassland ecosystem. The traditional grazing practiced by Tibetan nomads are crucial for Tibetan range lands and help promote plant diversity and nectar production. They move their herd from summer pasture to winter pasture in a rotational fashion which helps avoid overgrazing. Such land management techniques renew grasslands, improve wildlife habitats and help sustain the Tibetan plateau, Asia's water tower.
Drokpa herders (high pasture people) account for nearly a quarter of Tibetans in Tibet. They make up 90% of the population in several Tibetan counties. They are the traditional land managers and water protectors of the globally significant range-lands with a deep understanding of the pasture dynamics; for more than 8,000 years, they have been following a unique pastoral culture close to nature.
Solar farms issues involved can range from the soil, air, water and vegetation alteration, land erosion and damage to human health.
Solar farms spread over many hectares of land can cause land degradation and habitat loss. It might also cause deforestation. land on which solar plants are installed cannot be shared for agricultural production. Large solar plants also cause soil degradation and deforestation. It disturbs the ecosystem of a region by hampering the region's ecology. They may also be detrimental to the flora and fauna if established near endangered forests.
You also have to consider water usage, which can be a significant impact in locations where water may be scarce.
Edited & Collated by Team TRC