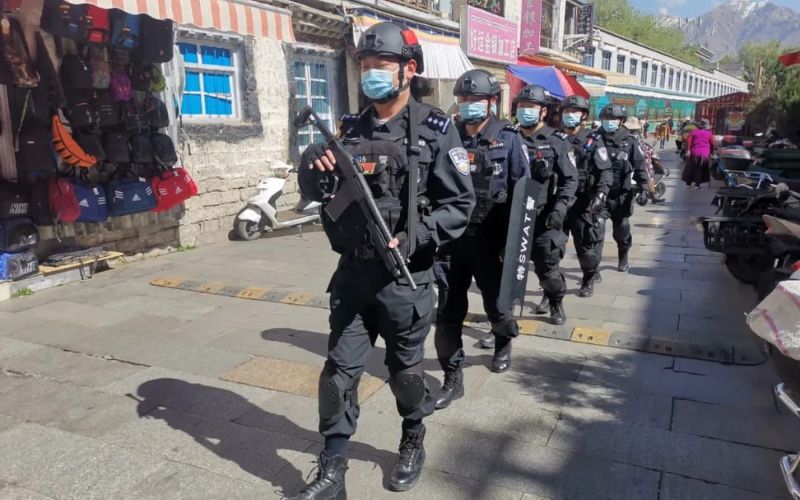 China tightens restrictions in Lhasa ahead of Dalai Lama's birthday
Dharamshala: According to London-based Free Tibet, Chinese authorities have tightened restrictions in the capital city of Lhasa ahead of the exiled spiritual leader His Holiness the Dalai Lama's birthday on July 6. "Police checkpoints have been installed across Lhasa, including on all sides and streets around the Jokhang Temple, Potala Palace and three monastic universities: Gaden, Sera and Drepung," information supplied by Tibet Watch revealed.
As part of pre-emptive measures for so called 'stability maintenance', random searches of Tibetans and subsequently checking their phones for any hint of dissent will be conducted. The photo evidence also showed that authorities are resorting to "flying drones over the city to monitor movement" during the sensitive period. However, Tibetans have observed Losar, Tibetan National Uprising Day on March 10 and the birthday of the Dalai Lama despite bans and surveillance from the Chinese government.
Security personnel at crucial checkpoints will conduct random body searches and check phones to lookout for "incriminating evidence" such as the photos of the revered Dalai Lama, the researchers said. "Groups of two or more Tibetans are being questioned about where they have come from and where they were headed, with police demanding that they produce their identity cards," the report said, adding that police are also monitoring Tibetan pilgrims around religious sites.
Earlier this month, a Tibetan man named Tsewang Norbu, 40, was on pilgrimage to Lhasa city's Potala Palace where he was arrested by Chinese authorities; no further detail of his whereabouts is available at the moment. He was a Tibetan pilgrim from Kham region who reportedly demanded to the authorities that Tibetans be prioritized to visit holy sites instead of the growing numbers of Chinese tourists, especially during the most sacred and holy month Saga Dawa for Buddhists.
Information supplied by Phayul
By Team TRC