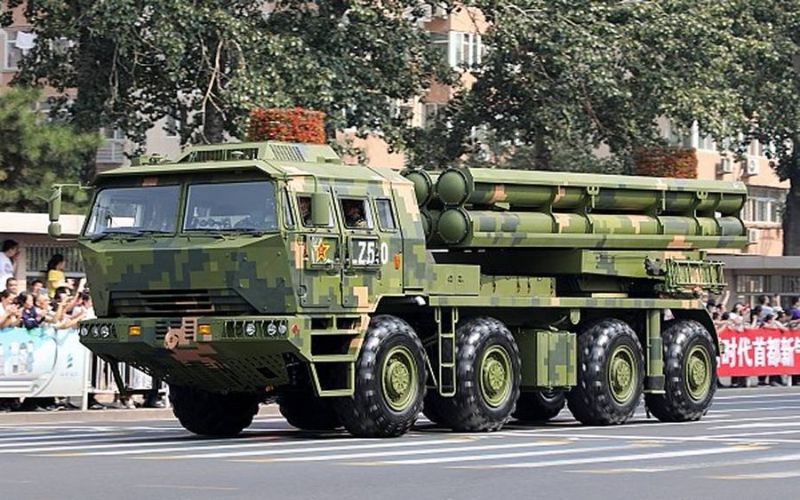 China to deploy PHL-16 multiple launch rocket system in Tibet bordering India: Reports
Lhasa: According to Chinese official media, China has recently tested a brand-new high-altitude rocket launching system. The 16th round of military negotiations on the Sino-Indian border has just concluded, and the PHL-16 (or Type PCL191) multiple launch rocket system (MLRS) may now be stationed in the Himalayas.
The main role of the PHL-16 is to engage remote strategic targets, such as airfields, command centers, support facilities, air defense batteries, concentrations of troops and vehicles and so on.
The PHL-16 uses 370 mm guided rockets. These have a maximum range of 220 km. As far as the system uses pods with missiles, it can be configured to use rockets of different caliber. Some sources report that it is capable of launching tactical ballistic missiles and anti-ship missiles.
This rocket system is operated by a crew of 5. The rockets or missiles can be launched without leaving the cabin. Preparation for launch takes around 5 minutes. Rockets and missiles can be also launched remotely from the vehicle by using remote control unit. Once the rockets are launched the launcher vehicle can leave its firing position within 1 minute. Brief redeployment time allows to avoid counter battery fire.
Vehicle has an armored cab which provides some degree of protection for the crew from small arms fire and artillery shell splinters. Launcher vehicles can operate in battery, battalion, or autonomously. A typical battery includes launcher vehicles, reloading vehicles, command post vehicle, meteorological survey vehicle and other associated support vehicles.
It is based on the NORINCO AR-3 MRL that was first marketed in 2010. The PHL-16 was unveiled during the Chinese National Day Parade in 2019; unlike other rocket systems in the parade, the vehicles were unlabelled. The novelty is that, in addition to rockets with a range of 350 kilometres, the system can now fire so-called "Fire Dragon" ballistic missiles, capable of striking at 500 kilometres. It means that it can hit any Indian military base from the territory under Chinese control, reported Frontier India.
Read Complete news here.
By Team TRC