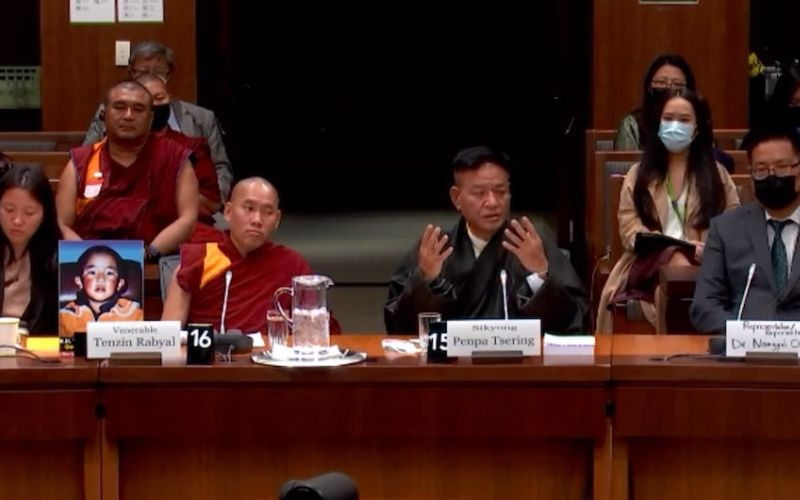 China warns Canada for allowing visit by Sikyong Penpa Tsering
Ottawa: Castigating him for saying that "Tibet is not part of China," the Chinese Embassy in Canada has on May 7 expressed "strong disapproval of and firm opposition" to Ottawa for having allowed the Tibetan "government-in-exile" leader Mr Penpa Tsering to visit the country and for having arranged for him to testify before the country's House of Commons Standing Committee on Foreign Affairs and International Development.
Sikyong Penpa Tsering, the executive head of the Central Tibetan Administration (CTA), is visiting Canada from May 2 to 10, with his highlight-event being his testimony on the issue of Tibet in the Canadian parliament on May 5.
Referring especially to the repression of Tibetan language and culture, the Sikyong was stated to have urged Canadian policymakers for more legislation and sanctions on China.
On the prospects for reaching a settlement on the issue of Tibet, the Sikyong has expressed grave pessimism, noting, "Under President Xi, things look dire that even hope for negotiations in the immediate future seems remote." He has urged the committee to pass a motion on the resumption of Sino-Tibet dialogue with unanimous consent.
While the Sikyong has made clear the CTA's decades-long policy of seeking genuine autonomy for an undivided Tibet under China's existing constitution, the Chinese embassy spokesperson has called the "Tibetan government-in-exile" a separatist political organization with the aim of achieving "Tibet independence."
The spokesperson has warned Canada to "immediately stop interfering in China's domestic affairs over Xizang-related issues, while damaging the stability in Xizang, and to stop providing support and a platform for separatists on which to carry out their anti-China separatist activities, or China will be compelled to respond accordingly."
(Information supplied by Tibetan Review)
By Team TRC