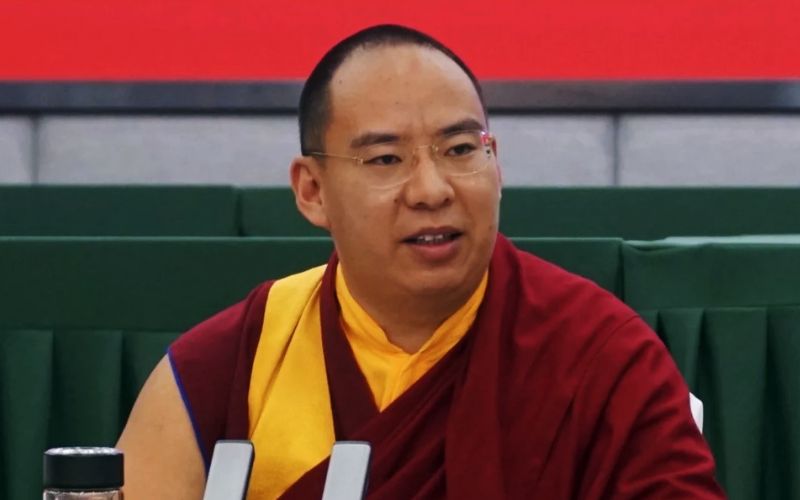 China`s Appointed Panchen Lama Undertakes Tour of Tibet Capital, Lhasa
In occupied-Tibet, China-elected Panchen Lama Gyaltsen Norbu is busy orchestrating visits to monasteries, giving lectures on Tibetan Buddhism and meeting Tibetans and Chinese official media is talking about him and his activities with much enthusiasm. China's appointed 11th Panchen Lama, Gyaltsen Norbu, is continuing his tour of Tibet following a 13-day visit to Chamdo City.
The Chinese government appointed Gyaltsen Norbu as a replacement for the recognized Panchen Lama, Gedhun Cheokyi Nyima, chosen by the His Holiness the 14th Dalai Lama in 1995. Gedhun Choekyi Nyima was kidnapped at the age of six by the Chinese government along with his family and has been missing since then.
According to China's official Xinhua news agency, Gyaltsen Norbu arrived in the regional capital Lhasa on June 25 and is set to engage in a series of Buddhist and social activities during his stay.
Last year around June-July, he had undertaken visits to Tibetan areas. Most of the visits were being executed in the border areas. His visits to Tibet are CCP's attempts to garner support and credibility for their candidate, who Tibetans haven't accepted as the real Panchen Lama. Each visit is perfectly planned and executed by CCP and they are propaganda tools to spread disinformation about Tibet and hide the real human rights crisis unfolding in Tibet.
Gyaltsen Norbu has visited monasteries, given blessings, and toured various locations in Tibet. While in Kham areas, the Chinese government incentivized Tibetans to attend his events by offering them 100 yuan each. Gyaltsen Norbu currently resides in Beijing but is expected to play a role in China's plan to appoint its own Dalai Lama, despite the invalidity of such a decision.
Prior to his visit to Chamdo, Gyaltsen Norbu had toured several areas within the Tibetan province of Kham or Dotoe. These areas included Gyalthang (Shangri-La, Chinese: Xianggelila) County in Yunnan Province, Lithang (Litang), Bathang (Batang), and Dhapa (Daba) counties in Sichuan Province, as well as Markham (Mangkang) County in TAR.
Since his appointment as the 11th Panchen Lama by China in 1995, Gyaltsen Norbu has been presented as the 'face of Tibetans and Tibetan Buddhism'. PRC has been campaigning hard for Norbu; he is now a member of the Standing Committee of the National Committee of the Chinese People's Political Consultative Conference, Vice President of the Buddhist Association of China and President of the Association's Tibet branch. Over the years, Norbu has undertaken numerous domestic and foreign trips as a Chinese puppet and made various speeches to talk about Buddhism, Tibet and China. However, CCP's efforts to gain recognition and acceptance from the Tibetans have largely failed.
Gyaltsen Norbu currently holds positions of influence within the Chinese political and religious spheres. He is a member of the Standing Committee of the National Committee of the Chinese People's Political Consultative Conference, vice president of the Buddhist Association of China, and president of the association's Tibet branch.
Edited and collated by Team TRC