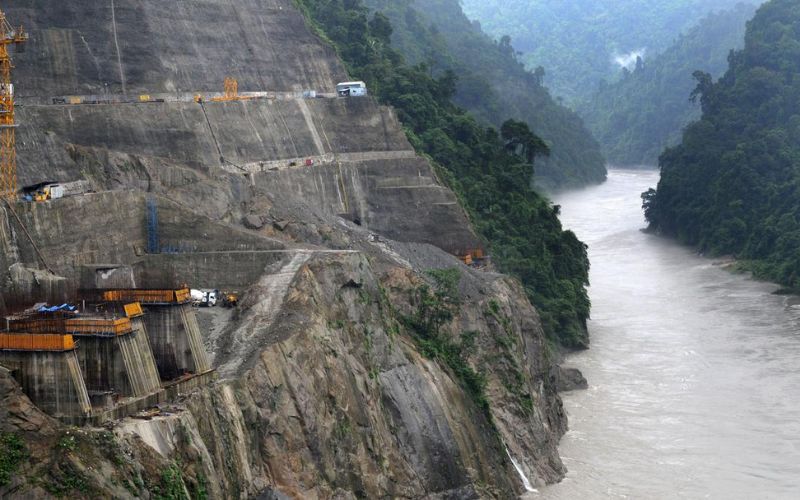 China's hydropower project in Tibet raises concern in Arunachal Pradesh
Source: The Hindu
Concerns regarding China's proposed 60,000 MW hydropower project in Medog, Tibet, are influencing the design of an Arunachal Pradesh hydropower project in the Upper Siang district. The National Hydropower Corporation (NHPC) last month submitted a 'pre-feasibility report' on the 11,000 MW project, which is more than five times the size of the largest such projects in India, to the Central Electricity Authority for appraisal, according to sources.
The fact that the 60,000 MW dam in Medog could reduce the natural flow of water from the Brahmaputra away from India during dry spells, or worse, be used to trigger "artificial floods," according to sources, is a source of "concern" in India.
The proposed project's design includes "buffer storage" of 9 billion cubic metres (or approximately 9 billion tonnes of water) during monsoon flow, according to sources connected to the project who declined to be identified. This could serve as a reservoir for a year's flow that would otherwise be available from the Brahmaputra, or as a buffer against sudden releases.
The Brahmaputra, known as Yarlung Tsangpo in China, is a 2,880 km long transborder river that originates in the Mansarovar lake and flows 1,700 km within Tibet, 920 km in Arunachal Pradesh and Assam and 260 km in Bangladesh. It accounts for nearly 30% of freshwater resources and 40% of India's hydropower potential. Diverting its flow could mean agricultural impacts downstream in Assam and Arunachal Pradesh.
"The project is primarily intended to manage flooding in the Brahmaputra, but we cannot ignore strategic aspects, and this is one way to counter any potential threats," a person involved in the Upper Siang project's planning told The Hindu, declining to be identified.
The NHPC expects to commission the 2,000 MW Subansiri Lower Hydro Electric Project later this year, the largest of its kind in terms of installed capacity in India, capable of producing 2,000 MW of power for at least four hours every day of the year. This would entail building a 160-meter-high dam with a total storage capacity of 1,365 million cubic metres. Other hydropower projects worth 2,880 MW have been approved, with another 6,500 MW in the pipeline.
While Arunachal Pradesh has long been regarded as a state with significant potential for large hydropower projects, local agitations, primarily due to the threat to farmland, displacement, and environmental concerns, have resulted in the cancellation of many projects. The Arunachal Pradesh government decided last week to transfer five stalled hydropower projects in the state to Central bodies. These were supposed to be carried out by private players, but they backed out due to rising costs from agitations in Assam downstream.
Edited & Collated by Team TRC