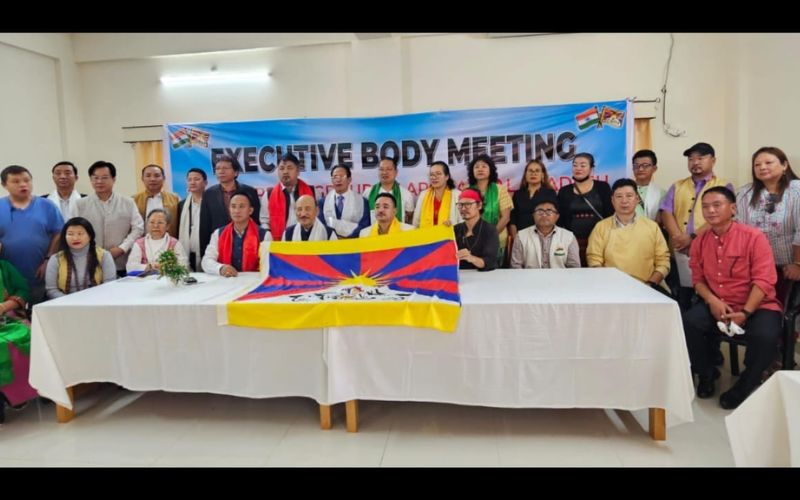 China`s interference in Dalai Lama`s reincarnation lacks legitimacy, affirms R.K Khrimey
Source: Arunachal Observer
In a recent meeting of the Tibet Support Group of Arunachal Pradesh (TSGAP) at the Gonpa Guest House in Itanagar, prominent Tibetan activist and writer Tenzin Tsundue fervently addressed the executive body, emphasizing the group's tireless efforts for the greater humanitarian cause, particularly highlighting the plight of Tibetans globally.
Tsundue passionately outlined the ongoing struggle for the freedom of Tibet, emphasizing that Tibet was once an independent nation but forcefully occupied by the People's Republic of China (PRC), resulting in the loss of freedom for Tibetans. He urged the TSG movement to intensify its efforts for substantive change, stressing that support for the Tibetan cause should not merely be an act of mercy but a means to ensure the prosperity and security of Tibetans as well as India.
During his address, Tsundue pointed out a lack of awareness among younger generations about the Tibet issue due to its absence from school curricula, underscoring the importance of raising awareness as the foundation for political support.
The meeting also witnessed discussions about the emotional connection between the people of Arunachal Pradesh and Tibet, with TSGAP President Tarh Tarak expressing his inspiration to support the Tibetan cause after visiting areas bordering Tibet and interacting with its people. He reaffirmed his commitment to the cause and pledged to align the group's efforts with the directives of the Core Group for Tibetan Cause India (CGTCI).
Former MP R K Khrimey, the national convenor of CGTCI, emphasized the need for heightened awareness regarding Tibet's cause among the younger generation, particularly in Arunachal Pradesh. He highlighted the significant concern over the issue of the approval of the next Dalai Lama by China, categorically stating that there is no rule for China to have authority over the selection of the next Dalai Lama's reincarnation.
Additionally, the meeting outlined the objectives of TSGAP, focusing on humanitarian grounds and the importance of India's support for the Tibetan cause. The group also announced a yearlong observation, 'THANK YOU INDIA-2018,' to express gratitude to India for hosting His Holiness the 14th Dalai Lama and the Tibetan community.
The meeting concluded with the presence of TSGAP office bearers and well-wishers, highlighting the commitment of the group towards advocating for the Tibetan cause on both national and international platforms.
Edited and collated by Team TRC