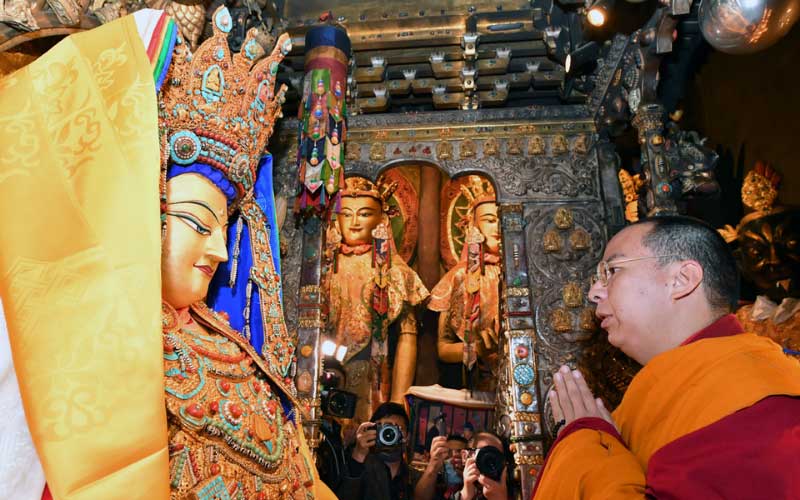 China's Panchen Lama visits Lhasa even as Tibetans demand release of their 11th Panchen Lama
Lhasa: China's Panchen Lama, Gyaltsen Norbu, on Wednesday, 18 May visited Jokhang Temple, the most revered monastery in Lhasa, "starting his activities in southwest China's Tibet Autonomous Region this year", reported Chinese state affiliated media Xinhua. His visit to Lhasa comes days after Tibetans across the world observed the 27th anniversary of Tibet's 11th Panchen Lama's disappearance.
According to Xinhua, he arrived at Jokhang Temple at 5:26 a.m. Wednesday, 18 May 2022 and was greeted by monks lining up and holding Tibetan incense or Buddhist prayer flags. He reportedly visited the temple, paid homage, and presented hada to the statues of Buddhas and then led sutra chanting at the temple, praying for peace, prosperity and stability, before performing a head-touching ritual to bless the monks. The report added that Panchen Rinpoche arrived in Lhasa on May 10 and during his stay in Tibet, Panchen Rinpoche attended a series of religious and social activities.
These actions can be seen as China's publicity stunts to gain influence among Tibetans as Tibetans and the world continues to seek explanations from Beijing on the whereabouts of the original Panchen Lama. Although officially atheist, China selected Gyaltsen Norbu as the 11th Panchen Lama in 1995 in a drive to project him as the face of Tibetan Buddhism and win the hearts and minds of Tibetans. However, China's plans have largely failed to take off and Tibetans within and outside China have refused to acknowledge him as the Panchen Lama. Gedhun Choekyi Nyima, the 11th Panchen Lama, was kidnapped by Chinese authorities in 1995 when he was six years-old. He has not been seen since.
China is using its own Panchen Lama to impose its own ideology on Tibetans. China aims to use Tibetan religious institutions as tools to aid in its attempts to Sinicize Tibet.
After 27 years, Tibetans-in-exile and worldwide demand China to free the Panchen Lama and his family, and let this vital religious leader return to his people. "China's refusal to provide information on the 11th Panchen Lama's whereabouts is further evidence of its lack of legitimacy in Tibet", reported ICT.
(Information supplied by Xinhua News)
By Team TRC