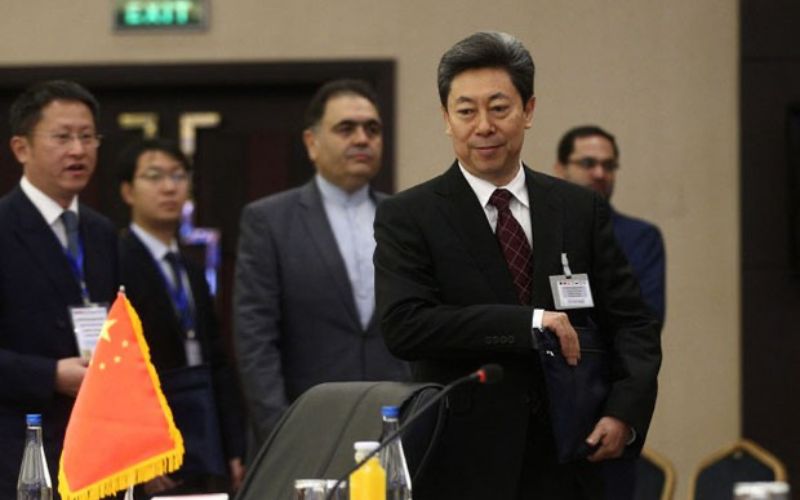 China`s Security Chief Visits Gansu, Raising Concerns of Increased Control Over Tibet
China's security leader, Chen Wenqing, went to Gansu province last week. He talked a lot about how important it is to keep the country safe and deal with people who want to break away. His words worried Tibetans because they think this might mean more strict actions against them. They're afraid that their rights might be restricted even more.
Chen, a prominent member of the Chinese Communist Party's Politburo and chief of the Central Political and Legal Affairs Commission, addressed a gathering of provincial security heads during his three-day trip. According to the South China Morning Post, he stressed the necessity for a resolute stance to protect China's unity, combat ethnic separatism, and ensure national security.
The Chinese government has long accused Tibetans, including their spiritual leader, the Dalai Lama, of seeking to detach the autonomous region from China. As a response, authorities have imposed restrictions on political activities and peaceful expressions of Tibetan culture and religion. This policy has drawn criticism from Tibetans, who frequently raise concerns about discrimination and human rights violations perpetrated by Chinese officials.
Chen's visit to Gansu, coupled with his focus on the urgency of national security and dealing with separatist tendencies, is perceived by some as an extension of a broader clampdown. Dawa Tsering, the director of the Tibet Policy Institute, stated that Chen's emphasis indicates not only a stricter approach in the Tibet Autonomous Region but also across the traditional Tibetan provinces of Kham and Amdo. He added that China's efforts to exert control over Tibetan Buddhism and culture have intensified over time.
Aadil Brar, a commentator and analyst, highlighted that the Chinese government's overarching objective is to assimilate Tibetan and Xinjiang cultures into the Chinese state through the process of Sinicization. This goal is also reflected in high-ranking officials' visits to these regions. Wang Huning, a senior leader of the Chinese Communist Party, visited the Tibet Autonomous Region in July, emphasizing the importance of advancing ethnic unity and Sinicization.
Jayadeva Ranade, president of India's Centre for China Analysis & Strategy, offered insights into China's apprehensions. He noted that China's concerns about stability in areas like Tibet are compounded by worries of international isolation and a deteriorating relationship with the United States. Ranade suggested that Beijing views Tibet as a vulnerable point that foreign powers might exploit to create internal unrest, specifically countries like the United States and India.
Chen's visit to Gansu and his emphasis on national security underline the complex dynamics surrounding Tibet's autonomy, cultural preservation, and China's efforts to maintain control in the face of both domestic and international challenges.
Edited and collated by Team TRC