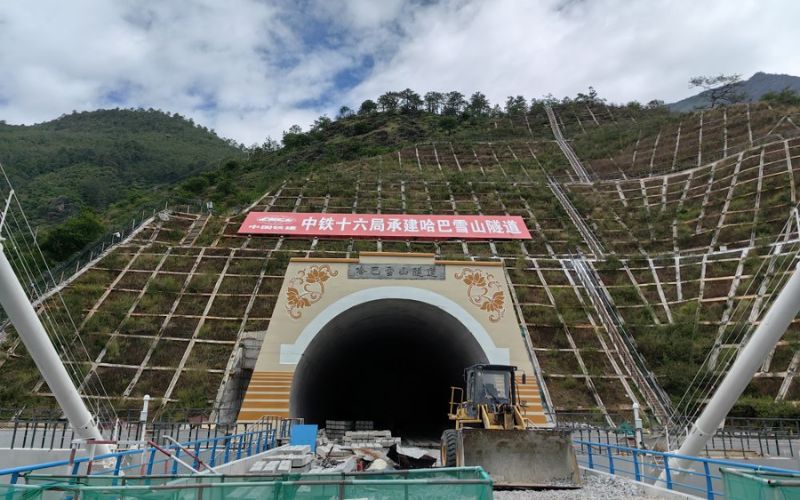 China`s Strategic Railway Project Advances with Completion of Haba Snow Mountain Tunnel, but Concerns Over Dual-Use Infrastructure Surface
The completion of the Haba Snow Mountain Tunnel, a crucial section of the Sichuan-Tibet Railway, was announced by Chinese officials. The tunnel, which spans a length of 9.5 kilometers, is one of the 20 planned for the railway, connecting Chengdu and Lhasa. Chinese news networks claim that "this is a major milestone in the construction of the strategic railway network."
China's official Global Times reported on Saturday that the completion of the tunnel came after a nine-year period of construction. With the tunnel finished, the focus now shifts to track-laying, with the railway anticipated to be operational within the year. The report claims "that the China Railway Group Co has committed to continue supporting national strategies and accelerating the development of modern railway infrastructure across the Tibet."
The rapid expansion of infrastructure in Tibet has a dual purpose, serving both civilian and military functions from the perspective of the People's Republic of China (PRC). The Chinese government is constructing infrastructure in Tibet that can be utilized for swift military deployment at strategic sites if needed, while also aligning with the Chinese Communist Party's (CCP) agenda of assimilating Tibetan culture.
In addition, it is important to note that previous reports from scmp.com on July 29, 2022, had highlighted some challenges faced during the construction process. These reports stated that the tunnel in the Deqen Tibetan autonomous prefecture had experienced significant deformation, reducing its diameter from 12 meters to less than 3 meters within a month. The deformation was attributed to the movement of tectonic plates in the region.
The Tibet Policy Institute suggests that China aims to employ a combination of strict control over Tibet and suppression of any form of opposition in order to gradually diminish and weaken Tibetan resistance both within and beyond Tibet's borders. Furthermore, the increasing presence of Chinese migrant workers and rapid urbanization in cities like Lhasa has led to a noticeable rise in intermarriage between Tibetan and Chinese communities.
These intermarriage between Tibetan and Chinese communities led to a blending of cultures, as Tibetan and Chinese traditions, customs, and values merge. This can contribute to a gradual erosion of traditional Tibetan cultural practices and language, as Chinese influences become more prevalent .
The Communist Party of China (CPC) government has made extensive investments in Tibet's infrastructure since the 1990s, particularly in connectivity projects like railways, roads, and airports. Additionally, investments have been made in hydro-power energy, urbanization, mining, tourism, and military and government infrastructure. China views these significant infrastructure investments as a means to enhance its control over Tibet, a region it considers to have unlawfully invaded and occupied.
Edited and collated by Team TRC