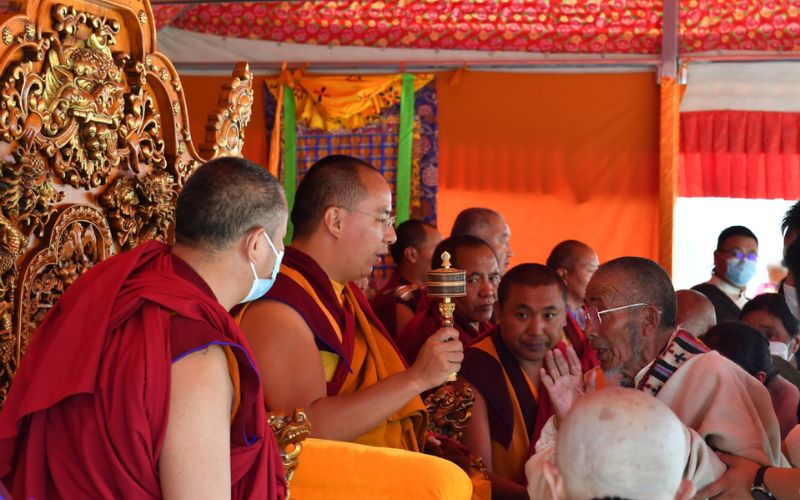 Chinese appointed Panchen Lama concludes 13 day tour in Chamdo, Occupied Tibet
China's appointed Panchen Lama, member of the Chinese People's Political Consultative Conference, recently concluded a 13-day tour in Chamdo city, Tibet. During his visit, he reportedly conducted various Buddhist activities, including visiting monasteries, holding prayer meetings, and meeting over 130,000 people. This is his second visit to Chamdo for such activities, according to report.
Additionally, he explored other locations in the region, such as the Sichuan-Tibet Railway station under construction and an economic development zone. He has now arrived in Lhasa, where he will continue engaging in Buddhist and social endeavors during his stay in Tibet.
The Chinese government was paying 100 yuan (about US$14) to each Tibetan who visited and received blessings from Gyaltsen Norbu, who is not recognized by most Tibetans as the true reincarnation of the 10th Panchen Lama, reported by Radio Free Asia.
He is currently the youngest member of the Chinese People's Political Consultative Conference, a Vice-Chairman of the Buddhist Association of China and the head of the latter's Tibet branch.
In 1995, His Holiness the 14th Dalai Lama identified a 6-year-old boy named Gedhun Choekyi Nyima as the 11th Panchen Lama, considering him to be the reincarnation of the previous Panchen Lama. The role of the Panchen Lama includes leading a council of senior lamas to search for the reincarnation of the Dalai Lama upon his passing.
However, the Chinese government reacted unfavorably to the Dalai Lama's recognition and three days later, took Gedhun Choekyi Nyima and his family into custody. Since then, they have disappeared, and their whereabouts remain unknown.
Instead, the Chinese government installed another boy named Gyaltsen Norbu as their own chosen Panchen Lama. This decision has been met with disapproval among Tibetans both in exile and in Tibet, as they perceive it as Beijing's imposition rather than an authentic choice.
While the real Panchen Lama remains missing to this day, the fake, handpicked by an atheist Party tours Tibet. Tibetans are forced to put his picture on their altars, but what remains deep inside the altar of their minds is the real Panchen Lama, reported by Bitter Winter.
Edited and collated by Team TRC