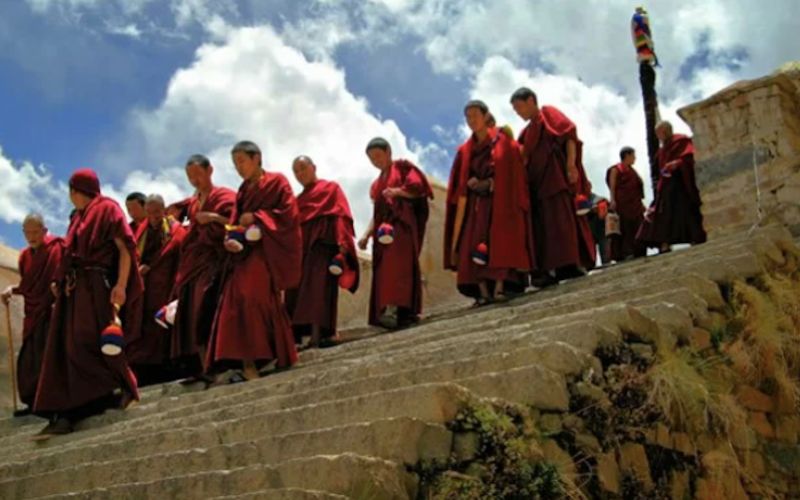 Chinese authorities cancel Major Buddhist Ceremony in Eastern Tibet, raising concerns over religious freedom
In the village of Samey-shi, located in Gumong Township, in the so-called Qinghai Province in Eastern Tibet, Chinese authorities took a oppressive decision to cancel a significant Buddhist ceremony on July 19. The event was scheduled to be presided over by Kyabje Athi Kalsang Tashi Gyatso and was expected to take place from July 20 to July 24, drawing around 10,000 disciples from various parts of Tibet. The cancellation order came as a shock to the devotees who had eagerly gathered for the Kalachakra (Wheel of Time) initiation.
According to reports received by Tibet Times, a Tibetan-language news outlet based in Dharamshala, the Tibetan lama who had travelled to the region to conduct the teachings was also forced to return by local officials and police. The organisers of the Kalachakra teachings faced detention and interrogation.
The situation took a distressing turn when, following the cancellation, the Kalachakra sand mandala was desecrated by the authorities, despite attempts by devotees to prevent it. The event had been organized with the necessary permissions from the Chinese government, and local Tibetans had raised approximately 200,000 yuan ($27,000) for the religious gathering.
In response to the abrupt cancellation, local Tibetans staged a peaceful protest at the site, urging the Chinese authorities not to intervene and allow the ritual ceremony to proceed. However, their plea was met with force, as Chinese security forces stopped the demonstrators and subjected them to physical beatings before sending them back to their respective places.
According to Freedom House's Freedom in the World 2023 report, released on March 9, 2023, Tibet has a global freedom score of 1 out of a possible 100. Tibet is the least-free country on Earth, sharing the bottom spot with South Sudan and Syria in watchdog group Freedom House's new global rankings.
A source cited by Tibet Times expressed concern and condemned China's actions, stating, "The Chinese government had initially given permission for the Kalachakra teachings to take place, but then they unexpectedly canceled the event and prevented it from happening. This sudden change in decision proves that religious freedom is undermined and violated in occupied Tibet."
The cancellation of the Kalachakra teaching and the subsequent events in occupied Tibet by China have sparked serious concerns about religious freedom in the area. The incident highlights the ongoing struggles faced by Tibetans in practicing their religion without interference and raises international attention to the issue.
Edited and collated by Team TRC