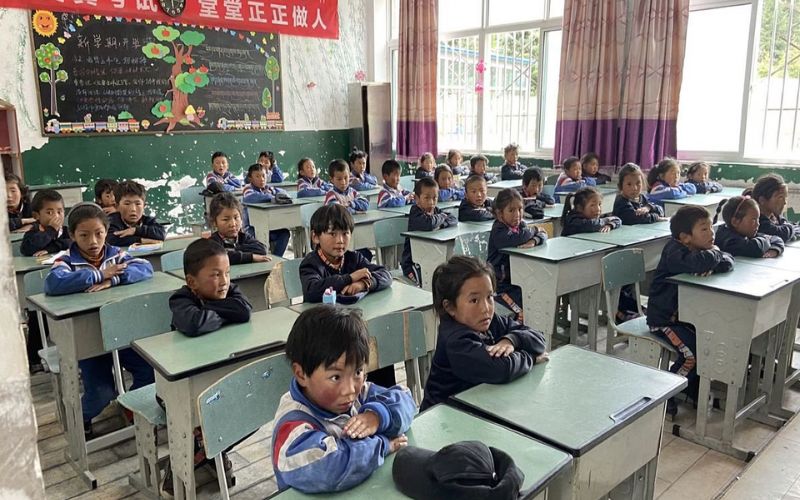 Chinese Authorities Foster National Identity Among Tibetan Children with Education Tours
Chinese authorities are continuing their efforts to foster a sense of national identity among Tibetan children. Recently, 27 students from 10 schools in Lhasa's Chengguan District were taken on a 10-day visit to Beijing to participate in a research exchange program aimed at promoting patriotism and strengthening the consciousness of the Chinese nation's community. The trip was organized by the Chengguan District Education Bureau, and the students visited famous landmarks such as the Bird's Nest, the Forbidden City, and the Great Wall, reported by International Campaign for Tibet.
The "National Unity Beijing Research and Exchange" activity launch ceremony was held on April 20, where the trainees sang the national anthem with their parents. The head of the Chengguan District Education Bureau distributed research materials to the representatives of the students and encouraged them to regard the activity as a long march in their life journey. The students took an oath, signed a security agreement on the spot, and took a group photo before departing for Beijing.
The research activity was led by seven teachers who took the students to various famous tourist attractions. During the trip, the students were exposed to the glorious history of the revolution and the profound culture of the Chinese nation. The aim was to forge a sense of community among the Chinese nation and promote national unity.
This research activity has also received strong support from Tongzhou District, Beijing. Zhuoma, a student from No. 8 Middle School in Lhasa, expressed her excitement to participate in the research trip and promised to abide by discipline, unite with her classmates, listen to the teachers, broaden her horizons, and strive to gain something from the experience.
Chinese authorities have been criticized for their efforts to promote patriotism among Tibetan children, which many see as a form of indoctrination. The recent research education tour within the so-called "Tibet Autonomous Region" for 76 students was also aimed at fostering a sense of Chinese identity. However, such efforts have been met with resistance and criticism from Tibetans, who view them as an attempt to erase their cultural identity and suppress their freedom.
Edited and collated by Team TRC