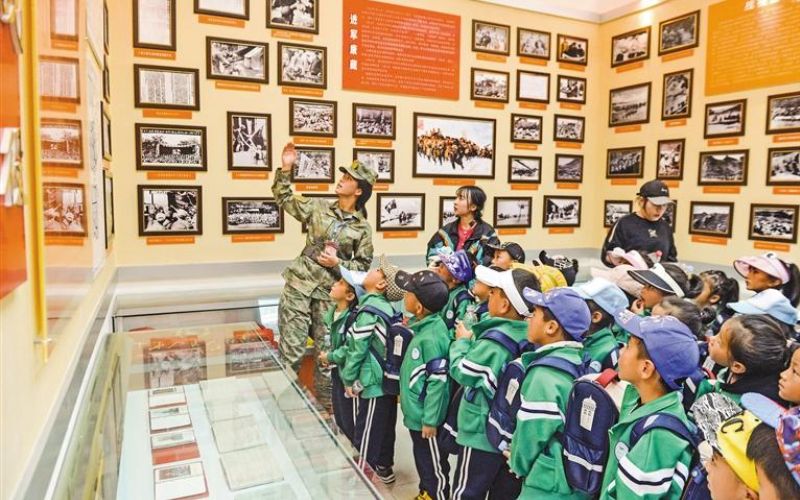 Chinese Authorities Intensify Efforts to Influence Tibetan Kindergarten Children through Military Education and Ideological Imposition
The Chamdo Military Division has organized an immersive national defense education program specifically tailored for Tibetan kindergarten children. This program involved 50 teachers and students from Chamdo Experimental Primary School and Karuo Town Central Primary School, aims to provide participants with a firsthand experience of army life while fostering a deeper understanding of national defense.
According to a report by Tibet Daily on June 28, the program was designed to familiarize the young participants with the military environment and its atmosphere. Although the report did not specify the exact age group of the children involved, accompanying picture inserts strongly suggested that the participants were young children, likely in the age range typically associated with kindergarten-level education.
However, Chinese authorities have heightened their endeavors to instill "Chinese communist ideology" among Tibetan children at a prominent kindergarten located in Lhasa, the capital of Tibet. This particular educational institution is dedicated to serving children below the age of five and has been specifically structured to ensure that the principles of "Chinese communist ideology" are deeply ingrained in the minds and hearts of these young individuals.
The Chinese Communist Party's attempts to "sinicize" Tibetan culture and assert dominance over it are closely linked to China's resolve to indoctrinate young Tibetan children with Chinese culture, language, history, and CCP ideology, starting from their early years through Chinese colonial boarding schools. These endeavors extend beyond the Tibet Autonomous Region (TAR) and encompass various regions within Tibet.
Recently, a group of 40 Tibetan children from the Yushu Children's Welfare Centre embarked on a trip to Beijing from May 30 to June 3. The trip was organized as a "research trip to motherland" and coincided with China's Children's Day on June 1. The event was a collaborative effort between the Yushu Prefectural People's Government, Beijing Aid to Youth Headquarters, and China News Service, and was described by state-affiliated media as the first step of the "Dream Realization Project".
Yu Lan, the President of China News Network, portrayed the journey as an opportunity for the children to "experience the community of the Chinese nation" and engage in a study tour focused on their "motherland". However, these actions by the Chinese administration have raised concerns, as they appear to have a hidden agenda of separating Tibetan children from their culture and identity.
Edited and collated by Team TRC