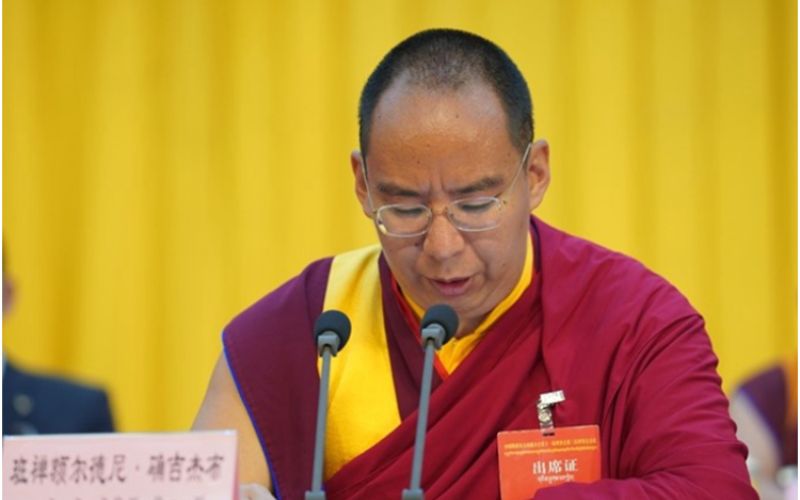 Chinese Buddhist Association in Tibet Promotes Sinicization and Propaganda, Disregards Tibetan Sentiments
The recent 11th council meeting of the China Buddhist Association Tibet Branch has raised concerns over the promotion of propaganda and Sinicization efforts in Tibet. The meeting, chaired by the China appointed Panchen Lama, highlighted the support for the "two consolidations" and the emphasis on the "two safeguards," aligning closely with the Chinese Communist Party's ideology. However, it is important to note that the Panchen Lama appointed by China is not recognized by Tibetans as the legitimate Panchen Lama.
The Panchen Lama, who holds the second-highest spiritual position in Tibetan Buddhism after the Dalai Lama, has a significant role in the religious and cultural landscape. After the passing of the 10th Panchen Lama, the 14th Dalai Lama formally acknowledged Gedhun Choekyi Nyima as the rightful successor of Panchen Lama in 1995. However, shortly after this announcement, the Chinese government intervened and took Gedhun Choekyi Nyima, along with his family, into custody and his whereabouts is unknown till date. Months later, the Chinese government selected Gyaltsen Norbu as their chosen Panchen Lama, effectively establishing him as a proxy figure.
The Tibetan branch of the Buddhist Association has actively pushed for the "Three Consciousnesses" education, which includes national consciousness, citizenship consciousness, and rule of law consciousness. This education campaign aims to strengthen loyalty to the Chinese nation and its laws, disregarding the distinct Tibetan cultural and religious identity.
Furthermore, the association urges its members, including temple monks and nuns, to prioritize national interests over religious practices, promoting socialist core values and Chinese culture. This approach aims to prevent Tibetan Buddhism from becoming a tool for political purposes and suppress any form of dissent or separatist movements.
The association has also issued a proposal to distance itself from Tibet Spiritual leader His Holiness the 14th Dalai Lama and his followers, urging temple monks and nuns to fight against any forces seeking to split the country. This further reveals the Chinese government's attempts to control and manipulate religious institutions for its own agenda.
In the pursuit of Sinicization, Tibetan Buddhist teachings and regulations are being interpreted and shaped to align with Chinese characteristics, undermining the rich cultural heritage and unique traditions of Tibetan Buddhism. Tibetan Buddhist figures are encouraged to use the Mandarin language and engage in translation and compilation work that aligns with the Chinese socialist system.
The Tibetan people, who have a long history and distinct cultural heritage, deserve the freedom to preserve and practice their own beliefs without interference or manipulation. The Chinese Buddhist Association's efforts to promote propaganda and Sinicization in Tibet disregard the sentiments and aspirations of the Tibetan people, further exacerbating tensions in the region.
Edited and collated by Team TRC