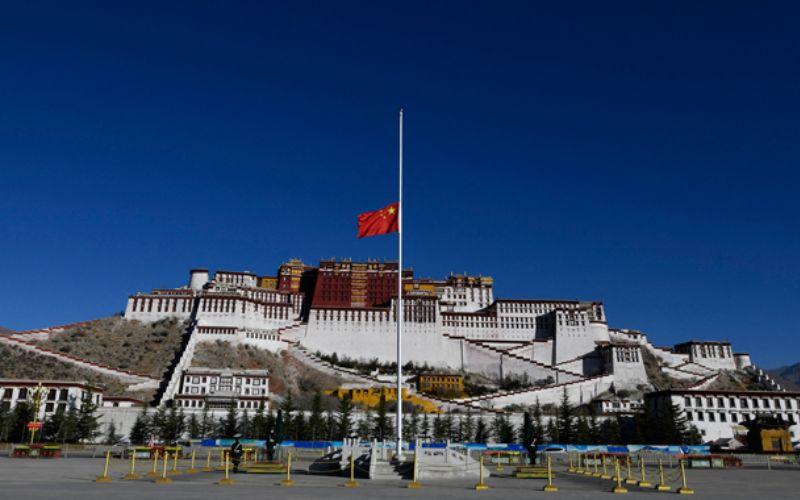 Chinese Government Hosts U.N. Ambassadors on Carefully Orchestrated Tibet Tour Ahead of Human Rights Review
In an apparent bid to shape perceptions ahead of an upcoming international review of its human rights record, the Chinese government recently organized a visit to Tibet for a group of United Nations ambassadors, according to Tibetan experts familiar with the region. The diplomats, hailing from authoritarian nations closely aligned with China, including Cuba, Venezuela, Nicaragua, Belarus, and Pakistan, embarked on the tour of Tibet from August 28 to 30. The visit aimed to showcase Tibet as a region where human rights and freedom are enjoyed by its residents, as reported by photos shared on the social media platform X (formerly known as Twitter).
Tenzin Dawa, the director of the Tibetan Centre for Human Rights and Democracy, highlighted the authoritarian nature of the participating nations and their economic ties to China. She noted that this orchestrated visit was timed strategically as the United Nations is set to conduct a public examination of China's human rights record in early 2024, as part of a review process at the Human Rights Council in Geneva.
Dawa stated, "This visit arranged by the Chinese government is clearly aimed at portraying a Tibet where China believes Tibetans enjoy human rights and freedom."
This tour unfolded against a backdrop of increasing international criticism of China's policies in Tibet. Authorities in Tibet have long been accused of suppressing political activities, curtailing the peaceful expression of cultural and religious identities, and perpetrating discrimination and human rights abuses against Tibetans, all contributing to the erosion of their national and cultural identity.
During their visit to Tibet, the diplomats toured significant cultural and religious sites, including the Jokhang Temple, Potala Palace, Sera Monastery, and a secondary school in Lhasa, the capital of the Tibet Autonomous Region.
Juan Antonio Quintanilla Roman, the permanent representative of Cuba in Geneva, expressed appreciation for their visit to the secondary school, emphasizing the importance of education in Tibet while preserving Tibetan culture.
The United Nations Human Rights Council is scheduled to scrutinize China's human rights record during the fourth Universal Periodic Review of China in early 2024, to be held in Geneva, Switzerland. While Cuba and Pakistan are current members of the 47-member council (with their terms expiring at the end of the year), Venezuela, Nicaragua, and Belarus are not members. Nonetheless, China anticipates their support as close allies.
Tenzin Lekshey, spokesman for the Central Tibetan Administration, the Tibetan government-in-exile based in Dharamsala, India, voiced the administration's repeated invitations to U.N. representatives and foreign journalists to visit Tibet independently to witness China's repression firsthand. Lekshey pointed out the Chinese government's preference for carefully choreographed visits aimed at concealing the reality on the ground.
In May, U.N. human rights experts raised concerns about allegations of mandatory vocational training programs and labor transfers in the Tibet Autonomous Region, akin to the situation with Uyghurs in Xinjiang.
The United States took a strong stance on Tibet in August by announcing visa sanctions against Chinese officials responsible for the forced assimilation of over one million young Tibetan children into state-run boarding schools. These coercive policies are aimed at eradicating Tibet's distinct linguistic, cultural, and religious traditions among younger generations of Tibetans, according to the U.S.
China's Foreign Ministry spokesman, Wang Wenbin, vehemently rejected these sanctions, denouncing them as based on "fabricated lies on Tibet in disregard of the facts." The international scrutiny of Tibet's situation and China's human rights practices is expected to intensify as the 2024 review approaches
Edited and collated by Team TRC