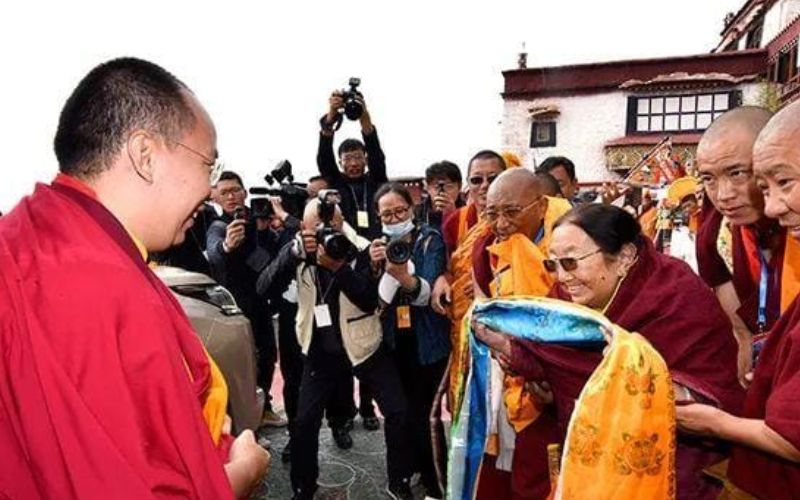 Chinese Panchen Lama visits Lhoka prefecture, Tibet
Lhasa: Chinese appointed Panchen Lama Gyaltsen Norbu visited Lhoka prefecture in southern Tibet, according to Chinese social media reports. Lhoka (or Shannan) is the most southerly prefecture in Tibet, with Lhasa to the north, Shigatse to the west, and Nyingchi to the east. The southern border of Lhoka lies on the Chinese border with Bhutan to the southwest and the Indian State of Arunachal Pradesh to the southeast.
Gedhun Choekyi Nyima, the 11th Panchen Lama, was abducted by the Chinese authorities in 1995 when he was six years old. Although officially atheist, China selected Gyaltsen Norbu as the 11th Panchen Lama in 1995, in a drive to project him as the face of Tibetan Buddhism and win the hearts and minds of Tibetans. However, China's plans have largely failed to take off and Tibetans within and outside China have refused to acknowledge him as the Panchen Lama.
Norbu had recently chaired a symposium held by the Tibetan branch of the Buddhist Association "to study and promote the Sinicization of Tibetan Buddhism".
Lhoka was also in news in the context of relocation of Tibetans by CCP. Recently, the Chinese government has been implementing relocating 26,304 people mostly from Tsonyi County, Amod County and Nyima County to Lhoka prefecture within the TAR. According to the Tibet Press citing Xinhua's August 2022 report, about 17,555 Tibetans from Nagqu city (North East of Tibet) – which has more than 1000 towns and villages are relocating to Sinburi (Senburi) village, Gongkar (Gongga) County, Lhoka in southern Tibet.
By Team TRC