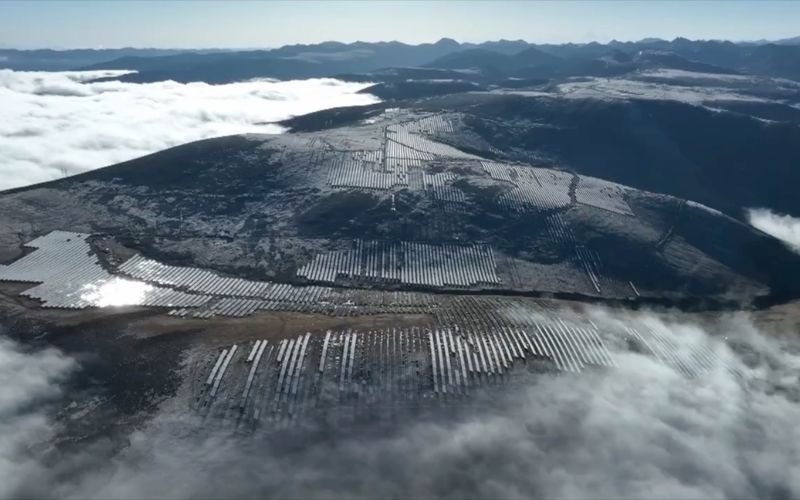 Concerns Mount Over Environmental Impact as Lianghekou Hydro-Photovoltaic Power Station Commences Operation in Occupied Tibet
In a recent development, the Lianghekou hydro-photovoltaic (PV) complementary power station in Ganzi has commenced operations on Sunday. Although hailed as the world's largest and highest-altitude hydro-PV complementary power station, concerns have been raised regarding its potential environmental impact.
The Yalong River basin, where the Lianghekou hydropower plant is situated, is renowned as one of Tibet's clean energy bases. The introduction of such a massive power station in this ecologically fragile area raises concerns about potential disruptions to the local flora and fauna, including aquatic life.
Furthermore, the long-term effects of hydro-PV complementary power stations on water resources remain uncertain. Such projects rely heavily on water flow for both hydropower and cooling purposes. This diversion of water could impact downstream communities that rely on the Yalong River for agricultural and domestic needs.
These developments have to be looked at with caution since occupied Tibet's environment is exploited by CCP to meet its ends. Tibetan plateau is often known as the "Third Pole", and holds the third-largest store of water ice in the world. Its glaciers feed several of the world's largest rivers, rivers that over 1.5 billion people throughout south and southeast Asia depend on every day for their water supply. Yet Tibet is warming three times faster than the rest of the earth, losing an estimated eight billion tonnes of ice being lost every year as glaciers disappeared.
This comes in the wake of recent news that according to an order issued by the authorities in Lingya Village in Rebgong (Tongren) county in Qinghai, Tibetan farmers in seven villages must vacate their land within 10 days of the date the order was issued, May 23. The villages fall in the project site for the construction of a hydropower dam. It appears that compensation for the villagers is not mentioned in the order. Defiance or failure to comply with "development" orders might result in long imprisonment terms, as evident in the imprisonment of 10 Tibetans in Sangchu county in Kansu (Gansu) Tibetan Autonomous Prefecture in mid-2020.
The purportedly "green" policy that China is pursuing in Tibet has been of building a number of dams on the plateau, to reduce the country's dependence on coal. However, the cost of the CCP's megaprojects is being paid by the local Tibetans, in the form of disruption of their habitats as well as dislocation of people. Lianghekou hydropower station, for instance, which is located in Ganzi Tibetan Autonomous Prefecture was estimated to help reduce raw coal consumption by 13.3 million tons and carbon dioxide emission by 21.3 million tons per year, the report said.
As the Lianghekou hydropower plant continues its expansion with a planned total installed capacity of 3 million kilowatts, the responsible management and mitigation of environmental risks must remain a top priority.
Edited and collated by Team TRC