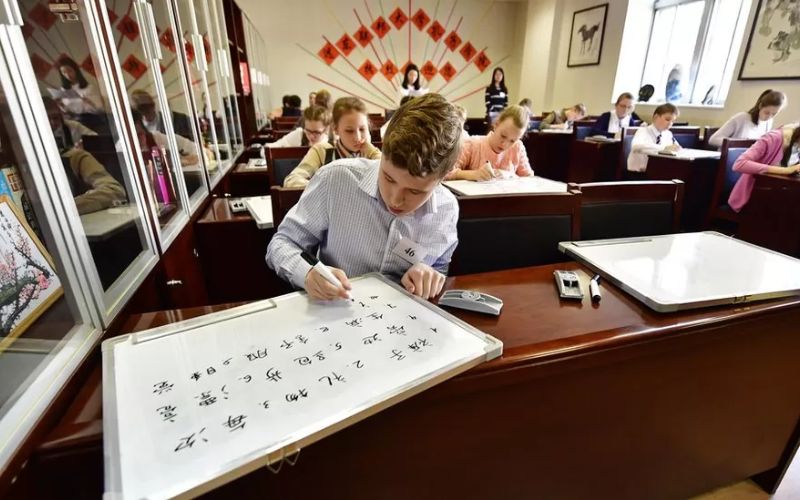 Controversy surrounds China's use of confucius institutes for propaganda and influence
Confucius Institutes are funded and operated by the Chinese government with the purpose of promoting Chinese language and culture abroad. The institutes are used for propaganda purposes and to spread Chinese Communist Party (CCP) ideology. Some critics argue that the Chinese government uses the Confucius Institutes to exert soft power and influence foreign governments and universities.
In response to these concerns, the US Department of State designated Confucius Institutes as foreign missions of the Chinese government in 2020. This designation means that the US government views the Confucius Institutes as part of the Chinese government's global propaganda and influence apparatus. The designation also requires Confucius Institutes in the US to register as foreign missions, which means they have to provide information about their personnel and funding.
Earlier this month, the University of Alabama in the United States closed its on-campus Confucius Institute. This decision follows a trend of several other universities in the US and Europe that have shut down their Confucius Institutes in recent years amid concerns about academic freedom, censorship, and influence by the Chinese government.
In addition to the University of Alabama, other universities that have closed their Confucius Institutes in recent years include the University of Chicago, the University of Michigan, and Stockholm University in Sweden. This reflects a growing concern among academics and policymakers about the influence of the Chinese government on university campuses and the potential threat to academic freedom and independence.
While academically "whitewashing" things that are not in the CPC's favour, "Tibet, Taiwan, and criticisms of Communism can be seen as taboo" in the Confucius Institutes' curriculum, according to the report.
The Chinese government oversees teachers and curriculum, selecting and vetting them and providing all classroom materials. It provides funding, while "the host school typically does little more than provide facilities and some administrative support," according to Oxenvad.
And so, while describing themselves as Mandarin language programmes, Confucius Institutes "promote censorship of views critical of the PRC and the Chinese Communist Party. In educational materials, they also follow a pro-China narrative," he has stated.
This was part of the reason why the 2021 National Defense Authorization Act, the US military's annual budget, specified that the Department of Defense will not provide contracts, grants or any other funds to universities with operating Confucius Institutes "other than amounts provided directly to students as educational assistance."
Some have also raised concerns about potential censorship and restrictions on academic freedom, as Confucius Institutes have been known to restrict discussion of sensitive topics such as Tibet, Taiwan, and human rights.
Other countries, such as Australia, have also raised concerns about the influence of Confucius Institutes on their campuses. Some universities in Australia have decided to close down their Confucius Institutes amid concerns about academic freedom and the influence of the Chinese government.
Edited and collated by Team TRC