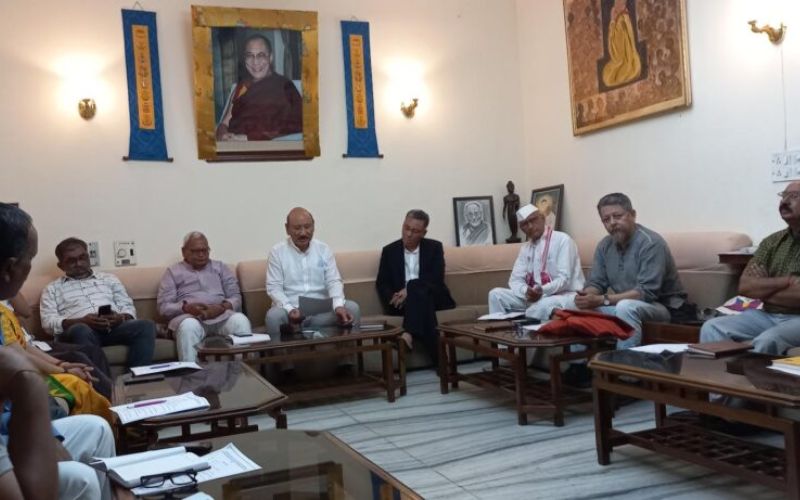 Core Group for Tibetan Cause – India Holds Meeting in New Delhi
New Delhi: Core Group for Tibetan Cause -India (CGTC-I), the apex body of all India Tibet Support Groups (TSGs) held a meeting of its National Convener, National Co-Conveners and Regional Conveners on Sunday, 29 May 2022 at Bureau of His Holiness the Dalai Lama, New Delhi.
The meeting was chaired by CGTC-I National Convener Shri R. K. Khrimey in the presence of Mr. Dhundup Gyalpo, Secretary, Bureau of His Holiness the Dalai Lama along with National Co-Conveners Shri Surendra Kumar and Shri Arvind Nikose; CGTC-I Regional Conveners and ITCO officials.
A minute of silence was observed for all Tibetan Martyrs and Tibet Support Groups members who passed away in the journey of Tibbat Mukti Sadhana.
Chair of the meeting Shri R. K. Khrimey in his introductory address highlighted the current scenario and developments in regard to Tibet, India and China. He informed the members that it is high time for all the members and Tibet Support Groups in India to work harder than ever to strengthen the Tibetan movement.
He appreciated the resilience of the Tibetan people in their struggle for Tibet and is confident that Tibet will be free soon. Shri Khrimey was happy to share with the members about the recent statement of His Holiness the 14th Dalai Lama where His Holiness mentioned he is healthy and he will live for more than 100 years.
Shri Khrimey said it is good news for all of us as His Holiness' presence is always a blessing and an inspiration and; his guidance will be there for the Tibetan movement. He extended his thanks to all the members for attending the meeting and conveyed his best wishes for their hard work, dedication and continuous support to the Tibetan cause.
Secretary Dhundup Gyalpo in his address highlighted the gratefulness of Indian Government and its people for helping and supporting Tibet and Tibetans during the last six decades. He shared the significance of age-old India-Tibet relations and the relationship of Guru and Chela between India and Tibet, which His Holiness the 14th Dalai Lama always emphasized. Secretary Gyalpo mentioned that India has done a lot for Tibet and India is the only country from where the light of Tibet's freedom will rise and shine. He offered his gratitude to all the members for their contribution to the Tibetan cause and sought their continuous support and help.
Read more details here.
(Information supplied by Tibet.net)
By Team TRC